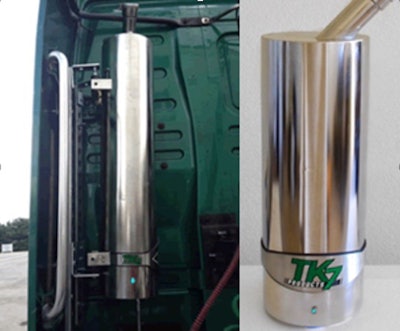 TBS Factoring and TK7 Products announced a partnership to offer TK7's fuel nanotechnology to small fleets and owner-operators through a finance program.
The TK7 fuel blend for diesel uses a ratio of 1 gallon of nanotechnology per 2,000 gallons of fuel. Rather than add the mixture to fuel tanks, TK7 Products has an automated dosing system that fleets install on trucks.
The automated dosing system runs $3,000 per truck, but the financing offered through TBS factoring gives owner-operators the option of financing enough product to treat 6,000 or 12,000 gallons of fuel depending on the dosage tank they choose, said Andy Hedrick, co-founder of TK7 Products.
"They are saving money even quicker because by factoring this, they are getting the fuel savings right away and paying for it over time," he said.
With the dosing system, the cost to treat a gallon of diesel is $0.149, he said. Based on an average of 15% improvement in horsepower and fuel economy, Hedrick says that fleets and owner-operators can expect a net fuel savings of between $0.21 and $0.42 per gallon with diesel prices at $2.50.
Independent lab and dynamometer tests that show TK7's fuel blend increases horsepower by 15 percent per stroke and reduces emissions by more than 50%.
Unlike other types of fuel additives, TK7's fuel nanotechnology changes the molecular structure of fuel to release more nitrogen and oxygen during the combustion process to consume the unburned fuel and increase horsepower and efficiency.
The TK7 fuel nanotechnology uses 14 different chemicals that include detergents for cleaning injectors and valves as well as a synthetic lubricant that releases during combustion to reduce friction on the cylinder walls to extend engine life.
The formula also lowers the pour point (gelling) of diesel fuel from -7 Fahrenheit to -19 degrees Fahrenheit.
"Our fuel economy has increased by 17% and it is having a positive impact on our maintenance and emissions cost," said Chris Brumley, co-owner of Nancy's Express, an 8-truck carrier based in Centennial, Co.
"We used TK7 as a test on our problem truck which is a 2013 International MaxxForce known to have extremely problematic regeneration systems leading to high maintenance costs," Brumley continued. "We have realized all the benefits that TK7 professed to provide along with the peace of mind that this truck won't be on the side of the road consistently like it was before."
TK7 Products also offers a money back guarantee if users do not experience at least a 10% fuel reduction during a 45-day field test.