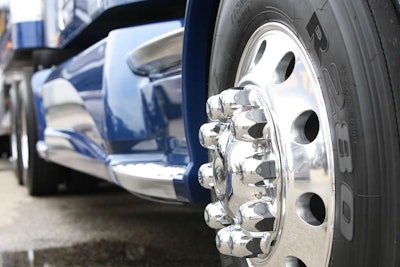 Aluminum wheels can be an easy and flashy way for weight-sensitive applications to pack on a few more pounds of payload and help mpg-conscious fleets squeeze a couple more pennies from fuel economy.
They also can be somewhat easier to maintain when compared to their heavier steel counterparts.
"The standard of care is relatively the same [between steel and aluminum]," said Brandon Uzarek, Accuride field engineer. "The only difference is when it comes to the finish of the wheel. After several years, steel wheels will have to be refinished. Uncoated aluminum wheels will oxidize and require regular polishing to maintain their shine."
Steel wheels require less surface maintenance but can experience paint cracking and peeling, while aluminum wheels are more resistant to corrosion.
"We found that preparing a wheel with a higher-gloss-level polish and smooth finish without machine lines can make it easier to clean and maintain," said Bob Caldwell, division manager for American Racing ATX Semi Truck Wheels. "Aluminum wheels also reduce the possibility of salt and dirt lying in machine lines, causing advanced corrosion."
Maximizing the life of a wheel's original finish starts with regular washing and using mild detergents and soft bristles, said Matt Brest, senior sales engineer for Maxion Commercial Vehicle and Military Wheels.
Heavy acids sometimes used in truck washes, and salts used to keep roads clean in winter, can cause aluminum wheels to become dull, gray and pitted. Brest said the coating of steel wheels can become compromised due to harsh environments, resulting in a dull finish and rust or blistering.
There are a number of steel wheel refinishing products on the market, which Dave Walters, Alcoa Wheels' manager of warranty and field service, said is a complex and fairly exact science. "Refinishing steel wheels are a major issue in the industry," he said.
With powder coat finishes, wheel refinisher must follow industry guidelines such as TMC RP 240 steel wheel and rim refinishing guidelines, RP 256 inspection criteria for steel and aluminum corrosion pitting and the council's TMC Radial Tire and Disc Wheel Service Manual.
"These RPs provide criteria that are mandatory for the refinishing process," Walters said. "To highlight a few would be the use of bakeoff ovens, allowable paint thicknesses and curing paint use and standards in the refinishing process. It is important to be aware of the refinisher's knowledge of these industry standards and that they are following them."
Steel wheels must have all the paint and rust removed from the surface without removing or changing the steel's material properties, Uzarek said, and the wheel must be coated quickly before rust forms on the surface.
"The new coating will not last as long as the OEM coating due to the surface finish left by the paint removal process," he said.
Refinishing the wheel can add several years to its life, and Uzarek said fleets can refinish their own wheels in-house.
"It generally makes sense for fleets such as transit, refuse and others where the vehicles return to a terminal regularly to investigate doing it on their own," he said. "If outsourcing is a better option, check to make sure the process has a good inspection, does not damage the structure of the wheel and puts no more than 3.5 mils of paint on mounting surfaces."
The aluminum wheel refinishing process is similar, but Brest said it can depend on the type of wheel finish. "There are clear-coat-type finishes for aluminum," he said. "In these cases, the finish is durable, but there are no published processes to restore the finish. In the case of bare aluminum, there is a similar number but different steps to return the wheel to a like-new condition."
Like steel, once the aluminum wheel has been cleaned and determined to be in good serviceable condition, the first step is to sand the entire wheel lightly to remove oxidation and pitting. Next, further smooth the wheel surface with polish compound and flap wheels. Finally, Brest said, a cotton buff is used to brighten the whole surface and return the wheel to its original mirror-like finish.
Since the refinishing process removes some amount of metal, it is important to make several final checks, Brest said. "Like steel, this final inspection must ensure that the wheel size, manufacturer name, DOT stamp and date code are all legible per federal standards," he said. "Finally, a car wax may be applied to the finished wheel to help extend the life of its shiny appearance."
Aluminum wheels largely are considered easier to pre-trip than steel due to the lack of many corrosion concerns, but Uzarek said "just because aluminum wheels do not rust doesn't mean that they do not corrode."
When performing pre-trips, "always look for cracks in the wheels and rust streaks coming from the bolt holes," Walters said. "If you detect rusts streaks, it usually means that you have a loose fastener or broken stud."
Uzarek said pre-trip inspections on all types of wheels should look for missing valve caps, broken studs, rust streaks from bolt holes, cracks in the washers of hub-piloted wheels, variations in the number of stud threads, wheels/drums not seated properly on the hub, cracks or damage on any wheel component, excessive pitting or corrosion that has reduced material thickness and the recommended tire pressure.
Regardless of wheel type, fleets should examine all mounting hardware, Walters said.
"The studs are stretched every time wheels are torqued up," he said. "They act as a spring in the system, so making sure they are not stretched beyond their yield point is critical. Studs can be checked with a tread gauge. The nuts are critical, especially on a hub pilot wheel system, because they have at least two pieces of a nut body and a washer base."
Nuts require free movement between the body and the base, added Walters, who recommended "a drop or two of motor oil" for the nuts every time they are installed, as well as a drop or two of motor oil on the studs.
"Wheels are one of the essential parts to be checked daily for safety," Caldwell said. "Over time, the load on a chassis or trailer may cause small fractures in a wheel. Begin by ensuring the vehicle has no missing or broken lugs or studs, and look closely for bent rims or cracks, as they may be subtle and barely visible without close inspection. Then look for stains on the wheel from rust and stretched or expanded stud holes from loose lug nuts, as they may cause stress on the lug holes, resulting in air loss and a potential flat tire."