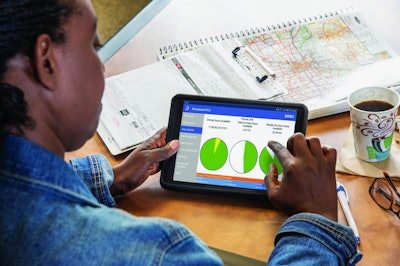 Beginning Sept. 29 when the revised hours of service rule shifts into law, truck drivers will have an expanded split-sleeper berth option that will allow them to effectively stop their 14-hour clock for up to three hours in a duty shift.
The new option allows drivers to split the 10-hour off-duty period up in two segments, with one segment being a minimum of seven hours.
With the new 7/3 split-sleeper berth provision drivers have one more hour of flexibility than the current 8/2 split. However, as a key change under the looming HOS regulations, the shorter period does not count against a drivers' 14-hour clock.
Another way drivers can preserve on-duty time is by logging the 30-minute break differently than they do now. Under the current regulations, drivers must take a 30-minute break within the first eight hours of on-duty time and record it as off duty. If a driver stops to fuel, dock a trailer or do other non-driving work, the time is considered as on duty and, as such, does not count toward the required break.
The new HOS rule offers more flexibility on that front. Drivers still break for 30 minutes, but within the first eight hours of drive time, rather than on-duty time, and they can log the time however they wish — as on duty, off duty or sleeper berth.
If drivers spend eight hours behind the wheel, stop for fuel or wait at a dock, they can drive another three hours by having more flexibility to reach the 11-hour drive limit.
Also, the radius of the short haul exemption extends from 100 to 150 air miles and allows fleets an increase in the maximum on-duty limit from 12 to 14 hours. With the new exemption, qualified fleets and their drivers do not have to keep a record of duty status or take 30-minute breaks.
These and other changes will bring fleets additional data to manage from electronic logging devices (ELDs) to not only monitor compliance but also assist with load planning, tracking freight and monitoring driver utilization and fatigue. New technologies are being developed in all these areas to help fleets get up to speed quickly.
Splitting breaks, not hairs
With less complexity and more flexibility, the new rule provides drivers a reason to consider splitting their 10-hour rest breaks.
Such had not been the case until now, said Dan Doran, president for Hamilton, Ohio-based Doran Logistics Services. "To me, the 8/2 split did nothing," said Doran, a past chairman of the Truckload Carriers Association from 2018-19.
Doran said drivers would rather stop for 10 hours to reboot their hours instead of using the 8/2 split. Getting a 7/3 split, he said, is "a step in the right direction, but I do not think it goes far enough." Doran would like the Federal Motor Carrier Safety Administration to reinstate splits of up to 5/5 that were removed in the 2003 revision of the HOS rule.
Managing the 8/2 split has been a problem, he said. The smaller segment of the split, up to two hours, counts against drivers' 14-hour clock. The longer break segment (of at least eight hours) effectively pauses it, and after drivers complete the second break segment they still have to go off-duty for 10 hours straight if they want to reset their 14- and 11-hour clocks.
If they continue splitting, they only regain a portion of their daily available hours after each break.
While putting all that into practice has been difficult, the new 7/3 split ends the complexity by allowing drivers to pick up right where they left off before they went on break, said Tom Bray, senior industry business advisor at J.J. Keller and Associates.
A driver who logs five hours of on-duty time against the 14-hour clock and drives four hours can take a three-hour break and still have nine hours of on-duty time and seven hours of drive time remaining when the break ends.
"It makes it so cleaner to use," Bray said. "More companies will be willing to use [the 7/3 split] to start working around delays. The driver can go into the sleeper for a period and come out in a split cycle."
Here are five areas where technology can assist fleets and their drivers with load and trip planning under the new rule.
1. Managing splits with ELDs
Most ELD systems currently do not have functions drivers can use to manage the 8/2 split. It largely is done manually, which John Ganiev saw as a shortfall when he evaluated ELD systems last year.
Ganiev is owner and president of Pittsburgh-based Dream Transportation, a 200-truck refrigerated and dry van carrier that uses mostly owner-operators. He wanted an ELD platform that would provide drivers with instructions on how to use the split-sleeper berth rather than just display the times they have remaining on their 14- and 11-hour clocks.
Ganiev decided to choose a white-label ELD system from HOS 24/7 and plans to customize its driver interface to make it easy for drivers to use and understand what they are doing when they split their 10-hour breaks, he said.
Some ELD and fleet telematics providers are working on updates in this area. Samsara plans to release an updated Driver App that will have two split-sleeper berth options for drivers – the 7/3 and 8/2 – when the new rule goes into effect.
"We want to make sure drivers and fleet managers are able to have a straightforward way to address the new rule and have coverage across the changes," said Lindsay McKinley, director of communications for Samsara.
Verizon Connect said it will be supporting all HOS rule changes in its Fleet and Reveal platforms by adding a new feature for the split-sleeper berth rule. Both of its fleet management ELD applications will alert drivers if they are facing a violation or have violated the rule.
For short-haul fleets, some ELD products can be configured to function as a timecard and will switch drivers to the HOS rule automatically if they exceed the new limit of 150 air miles from their starting location.
2. Instant freight matching
A number of software providers are developing features that use real-time HOS data to help fleets plan loads that satisfy all constraints for compliance, safety, customer service and driver satisfaction.
Six months ago, Dream Transportation started using ELD data in its load planning process. This happened by implementing Optym's cloud-based Axele transportation management software (TMS) system.
With Axele, Dream Transportation also gained a live connection with its load board accounts. Dispatchers can view available loads, and the system provides instant suggestions for how to match drivers and loads based on profitability, HOS status, miles, travel time and the driver's location.
Ganiev said Axele also provides dispatchers instant visibility of loading and unloading times for customer locations to help with load planning. The cloud-based system collects this data from the fleet's operations.
Axele also helps drivers with trip planning via an app that provides details of load assignments and routes. A suggested timeline shows the sequence of driving and resting events and updates the plan every 30 minutes.
With each update, the system recalculates drivers' estimated time of arrival (ETA) for each delivery stop based on location, speed and HOS status.
McLeod Software is updating its LoadMaster TMS system for the rule changes, but "from our perspective, there are not a whole of lot of changes we have to do," said Dustin Strickland, senior product manager.
Before load planners make a driver-load assignment, they can find loads closest to an asset and highlight the asset to run a "feasibility engine" for the loads. The engine provides the user an instant "yes/no" or "maybe" answer that shows potential conflicts based on the load's service requirements and the driver's duty status, location and planned events such as requested time off.
The feasibility tool also considers average dwell times at shipping and receiving locations to determine if drivers have enough hours to meet the service requirements, Strickland said.
With every communication received from an ELD and telematics system – typically every 15 minutes or less – LoadMaster updates the ETAs of loads. McLeod Software also has a Trip Management application for load planning that uses cloud-based software from Trimble Maps to fine-tune the ETA based on traffic and weather information.
3. Driver trip planning
Along with drivers gaining more HOS flexibility, technology suppliers are developing new trip planning tools to help fleets make smarter decisions.
Rather than send drivers a static route plan, fleets are using the tools to treat drivers like business partners and to intervene only when necessary if their decisions hurt profitability or customer service.
Werner Enterprises (CCJ Top 250, No. 11) is deploying a new enterprise-wide software platform to take advantage of the latest technologies and offer new load planning and trip planning tools for drivers, said Daragh Mahon, chief information officer for the Omaha, Nebraska-based fleet.
Werner is updating its Platform Science in-cab hardware and software, with fleetwide installment of the Edge Connect platform targeted for early 2021, Mahon said.
For trip planning, drivers who want to take a longer break could provide their intent to Edge Connect to update and re-optimize the route plan and ETA.
Industry data analysis shows that drivers typically use 9.5 out of the 11 hours they have available to drive during each duty cycle. Knowing how far drivers plan to go each day, where they plan to stop and for how long are important inputs.
Werner wants to combine driver intent in trip planning with real-time traffic and weather from Trimble Maps to provide load planners and customers with highly accurate ETAs. "It all feeds back to hours of service and the more tools we have for drivers to plan his or her day," Mahon said.
Trimble Transportation's TruETA cloud-based route planning tool for fleets and drivers has a Driver Trip Planning feature that captures driver input on route plans to calculate more accurate ETAs.
Within the app, drivers can update their trip itinerary if they want to extend their breaks at any location from a timeline view of all planned stops for their trips. The app also shows drivers a map view of their current route with traffic and weather overlays.
TruETA pulls data from systems in the office and vehicle to recalculate the ETAs of loads in progress. The ETAs are recalculated dynamically each time a position update is received from a fleet's mobile communications system.
4. Optimized load planning
As HOS changes add more dynamics to fleet operations, management cannot hit a pause button to evaluate all the different possibilities to maximize asset utilization.
The HOS change is one of many factors prompting Trimble Transportation to "build the ability to simulate rule changes into our products," said Chris Orban, the company's vice president of data science.
Dispatch Advisor is an optional module for fleet customers who use the Trimble enterprise TMS platforms TMW Suite, TruckMate or Innovative as a way to determine the best options to matching their loads with trucks.
Fleet mobility and ELD provider Omnitracs also is developing advanced load and trip planning tools that will consider many types of conditions that drivers may encounter on routes.
"Fleet managers need to consider drive times, service times, pre- and post-trip times and traffic conditions when creating trips," said Mic Yariv, vice president and general manager of Strategic Initiatives for Omnitracs. "We are compiling dwell times on millions of shipping and receiving locations and plan to integrate it into our new driver workflow platform to provide more transparency to drivers on what to expect when servicing a location."
5. Managing driver fatigue
Fleets also must consider driver fatigue in the load planning equation. Trimble, Omnitracs and a few other technology suppliers have predictive models that use ELD and other data to identify drivers who have an elevated safety risk caused by fatigue.
Ramprasad Renganathan, principal data scientist for Omnitracs, said the company's driver fatigue models do not go into the technicalities of evolving HOS regulations but instead take a holistic approach by using predictors based on these factors:
The hours a driver has been on duty and driving in the past week and month.
Home stressors. Any major changes to a driver's lifestyle at home, such as a newborn or a sick family member, affects recuperation/rest time.
Quality of sleep. "Human beings have a circadian rhythm, a sleep-wake cycle resulting in a loss of energy around 1 to 3 p.m. and 2 to 4 a.m.," Renganathan said. "When a driver takes naps during the regular sleep-wake cycle, he/she is said to have much better quality of sleep. So all sleep is not equal."
Trimble's predictive fatigue model, an option for its Safety Analytics platform, analyzes driver work and rest patterns. Orban said the model does not need to be updated with the new HOS rule, as human circadian patterns do not change. It will identify fatigue if driver behavior changes because of the new rule, he said.
Editor's note: CCJ's sister publication, Overdrive, explains in more detail about how drivers could use the 7/3 split to their advantage. Overdrive Senior Editor Todd Dills simulates an example here.