Trucking news and briefs for Wednesday, Sept. 16, 2020:
U.S. approves $1.5 billion settlement in Daimler diesel emission cheat
The U.S. Department of Justice, Environmental Protection Agency (EPA), and California Air Resources Board (CARB) this week signed off on a proposed settlement with German automaker Daimler AG and its American subsidiary Mercedes-Benz USA, LLC, resolving alleged violations of the Clean Air Act and California law associated with emissions cheating.
Under the settlement, lodged with the U.S. District Court for the District of Columbia, Daimler will recall and repair the emissions systems in Mercedes-Benz diesel vehicles sold in the United States between 2009 and 2016 and pay $875 million in civil penalties and roughly $70.3 million in other penalties. The company will also extend the warranty period for certain parts in the repaired vehicles, perform projects to mitigate excess ozone-creating nitrogen oxides (NOx) emitted from the vehicles, and implement new internal audit procedures designed to prevent future emissions cheating.
The recall program and federal mitigation project are expected to cost the company about $436 million. The company will pay another $110 million to fund mitigation projects in California. Taken together, the settlement is valued at about $1.5 billion.
The settlement addresses allegations made in separate civil complaints filed by the United States and CARB in Washington, D.C., that from 2009 to 2016, Daimler manufactured, imported and sold more than 250,000 diesel Sprinter vans and passenger cars with undisclosed AECDs and defeat devices programmed into the with BlueTEC II emission control system software. These devices cause the vehicles to produce compliant results during emissions testing, but when not running a test, the vehicles' emissions controls perform differently – and less effectively – resulting in an increase in NOx emissions above compliant levels.
The settlement requires Daimler to implement a recall and repair program to remove all defeat devices from the affected vehicles at no cost to consumers and bring the vehicles into compliance with applicable emissions standards under the Clean Air Act. The repair will consist of a software update and replacement of select hardware, which differs across models and model years.
Daimler must repair at least 85% of the affected passenger cars within two years and at least 85% of the affected vans within three years. The company must also offer an extended warranty covering all updated software and hardware, and it must test repaired vehicles each year for the next five years to ensure the vehicles continue to meet emissions standards over time. Daimler will face stiff penalties if any category of updated vehicles fails to meet applicable emissions standards or if it fails to meet the 85% recall rate for passenger cars or vans.
The settlement further requires Daimler to implement systemic corporate reforms to detect and try to eliminate violations in the future. This includes conducting significant testing on new diesel and gasoline motor vehicles using a portable emissions measurement system to assess compliance under real-world conditions, installing a robust whistleblower program, enhancing annual AECD and defeat device training for its employees, and performing internal audits subject to review and critique by an external compliance consultant.
Daimler must also replace 15 old locomotive engines with new, less-polluting engines to offset excess NOx emitted from its vehicles.
FMCSA suspends hours regs for relief haulers along Gulf Coast
Hurricane Sally made landfall as a Category 2 storm just before 5 a.m. Central time Wednesday at Gulf Shores, Alabama, with high winds and heavy rain affecting areas from around the Mississippi/Alabama border through much of the Florida panhandle.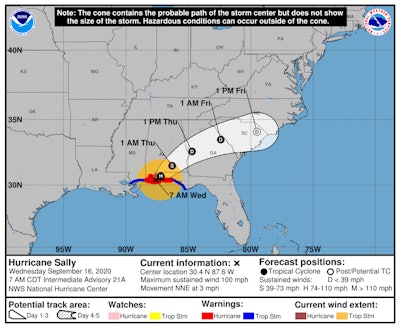 On Tuesday, the Federal Motor Carrier Safety Administration issued a regional emergency declaration for Alabama, Florida, Georgia, Louisiana and Mississippi, allowing carriers providing emergency relief in the affected areas to waive the hours of service regulations.
Specifically, the waiver applies to carriers providing direct assistance supporting emergency relief efforts transporting supplies, goods, equipment and fuel.
The agency also waived Temporary Operating Authority Registration fee for carriers requesting temporary authority to provide direct assistance to emergency relief efforts.
According to the National Hurricane Center, the slow-moving hurricane is expected to dump 8-12 inches of rain with higher localized amounts possible from west of Tallahassee, Florida to Mobile Bay, Alabama. "Storm totals of 10 to 20 inches to isolated amounts of 35 inches is expected," NHC said in its latest update Wednesday morning. "Historic and catastrophic flooding is unfolding. In addition, this rainfall will lead to widespread moderate to major river flooding."
ERoad adds truck-friendly routing with enhanced partnership
ERoad and HERE Technologies announced an expanded partnership to bring new routing and navigation capabilities to the ERoad Go+ program, which operates in conjunction with a fleet's transportation management system to mobilize dispatch and capture proof of delivery data digitally.
The navigation tool will be able to import assigned stops from the driver workflow mobile app, providing both a route overview as well as turn-by-turn navigation. Routing is truck-friendly and accounts for truck dimensions, vehicle weight, number of trailers and more. The tool also optimizes routes based on road attributes and conditions including truck restrictions, bridge heights, hazardous material restrictions and traffic.
The driver app features live turn-by-turn navigation with lane assist, and audible guidance on upcoming turns.