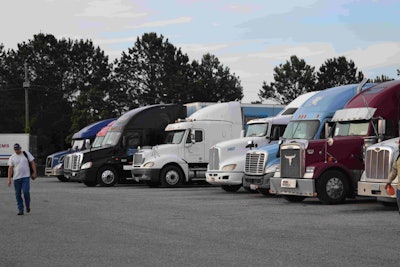 Trucking news and briefs for Thursday, Sept. 17, 2020:
With HOS reforms on the verge of taking effect, groups sue to halt them
With less than two weeks to go until an overhauled hours of service rule takes effect, a band of usual suspects has sued the U.S. DOT seeking to derail the new regs. It's unclear whether the groups are seeking an injunction to block them from taking effect or whether they're simply seeking a longer-term ruling against the new HOS regs.
On Wednesday, the Advocates for Auto and Highway Safety announced it had joined the Teamsters Union, Citizens for Reliable and Safe Highways and Parents Against Tired Truckers in a lawsuit against the looming hours of service rule and the Federal Motor Carrier Safety Administration. They're being represented by Public Citizen.
The regs are slated to take effect Sept. 29. They're intended to give truck drivers greater flexibility in managing their on- and off-duty time. The groups suing argue the regs are "not backed by sound science" and "will further exacerbate the already well-known threat of fatigue among commercial motor vehicle drivers."
Daimler Trucks intros hydrogen-cell, battery-electric trucks for European market
Daimler Trucks at an event Wednesday introduced a hydrogen-based fuel-cell truck for the long-haul trucking segment in Europe – the Mercedes-Benz GenH2 Truck. Daimler plans to begin customer trials of the GenH2 Truck in 2023 with production to start in the second half of the decade. The company said the truck can cover ranges of up to 1,000 kilometers on a single tank of hydrogen.
"Thanks to the use of liquid instead of gaseous hydrogen with its higher energy density, the vehicle's performance is planned to equal that of a comparable conventional diesel truck," Daimler said in a press release.
The company also introduced two battery-electric long-haul trucks – the Mercedes-Benz eActros LongHaul and the Mercedes-Benz eActros. The LongHaul version of the truck can run up to 500 kilometers on one battery charge, the company said. Daimler plans to have the LongHaul ready for series production in 2024.
The eActros, which was already introduced in 2018, will start production next year. Daimler said its range on one battery charge "will significantly exceed that of the prototype's approximately 200 kilometers."
The company said it is pursuing similar vehicle schedules for the North American market, and by 2022, it will be offering a battery-electric truck.
Mack opening orders this year for LR Electric refuse truck
Mack Trucks announced Wednesday its LR Electric refuse model will open orders in the fourth quarter with deliveries beginning in 2021.
The fully-electric truck was introduced as a prototype in 2018 and features Mack's fully integrated electric powertrain with twin electric motors and four NMC lithium-ion batteries.
Like other LR models, the LR Electric may be fitted with equipment bodies from a number of manufacturers, allowing the customer to tailor the truck to their specific application. Customers will be able to choose from the same driver/passenger side driving configurations, seating choices and door options offered on the diesel-powered LR. In addition, minimal changes to the gauges and select switchgear were made, allowing Mack to carry over the ergonomic driver-designed LR cab.
To maximize customer uptime, the LR Electric will be monitored by Mack GuardDog Connect, a telematics system that monitors vehicle performance to help customers avoid unplanned downtime. LR Electric-focused service training and electrical safety curriculum will also be deployed to the Mack dealer network to ensure customers receive the level of support they've come to expect from Mack.
ATA holding National Technician Appreciation Week next week
The American Trucking Associations, along with the ATA Technology and Maintenance Council, will hold the first ever National Technician Appreciation Week next week, Sept. 21-25.
ATA says NTAW will provide an opportunity to celebrate the hard work of diesel technicians. The week will feature a series of virtual events and educational sessions with technically focused webinars on the following topics:
Aftertreatment Diagnostics & Maintenance
Electrical System Diagnostics
Vehicle Data Network Diagnostics
Collision Mitigation Systems
How to Prepare for ASE Certification Testing
ATA and TMC will take advantage of NTAW to recognize the country's most exceptional technicians, and industry stakeholders will be asked to nominate their "Technician Superstars," who exemplify the highest levels of excellence and professionalism. Winners will be selected for three categories: heavy-duty, trailer, and light/medium duty.