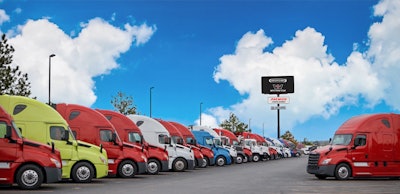 Demand for used trucks is climbing along with shipping rates, so now might be a good time to swap out aging trucks for new ones – at least for some fleets.
Such decisions are rarely that easy. Plenty of other factors should be considered before signing on the line, such as fuel economy, maintenance costs, warranty expiration, new safety technologies, freight forecasts, truck financing options, driver comfort and fleet depreciation.
Dealers are advertising attractive incentives, but it all starts with making thorough assessments and doing the math before racing out to a dealership.
But even for some fleets where budget battles rein, new trucks can make a lot of sense.
"Whether a company is in financial difficulty or not, if there is a business case that newer equipment will lower the cost of ownership, then a company should upgrade their equipment when possible," said Brent Rottweiler, vice president of remarketing for Volvo Trucks North America. "If a new truck purchase is not an option, companies should look into upfitting their existing fleets with cost-saving items such as telematics, aerodynamic trailer and exterior truck upgrades, etc."
Finding a used truck doesn't have to be frustrating.
The new Equipment Experts online marketplace makes it easy – with detailed filtering, truck history reports and payment calculators.
Vehicle depreciation, traditionally the biggest cost fleets bear within a few short years after acquiring new equipment, is a big factor in determining when to pull the trigger on a trade-in.
"Customers should make sure they properly depreciate their equipment so they are less likely to be in a negative equity position at the time of trade-in," Rottweiler said.
Ron Long, executive vice president of sales and marketing for Premier Truck Group, said duty cycle and equipment depreciation play key roles in knowing when to say "yes" to new trucks.
"If you don't put a lot of miles on a truck, you may be more inclined to keep that truck longer," Long said. "But the other thing is where that truck is in its depreciation and how that fleet chooses to depreciate the lifespan of their trucks, because we see an aversion to trading when there's a perceived loss on sale, and we see customers more willing to trade when they're in an equity position."
Used truck values also come into play, and demand has been high lately.
"That fluctuation in the strength of the used truck market obviously can have a big impact," Long said. "Being able to take advantage when the used truck market is strong, I think, could be a competitive advantage for a fleet in giving them the ability to refresh their fleet earlier than their typical trade cycle."
Hot used market or not, it may be best to exercise caution, said Don Nash, territory manager for Ritchie Bros.
"While it's true that we are seeing record numbers of trucks in our auctions and pricing is trending in the right direction, the best time for a fleet to remarket their assets is always 'when it's time,' " Nash said. "Negative cost impacts from waiting too long to replace units can and will result in far more loss than the sometime volatility of the secondary resale market."
Tech it out
Rapidly evolving technology is exciting on various fronts. Blink, and something's more efficient and safer than it was yesterday. But not only that, having the latest, greatest technology also can attract and retain more drivers at a time when they're needed most.
"Fleets typically establish trade cycles based on maintenance costs, durability and usage/mileage factors, but newer well-spec'd trucks are used as a driver selling point," said Don Ake, vice president of commercial vehicles for FTR.
However, holding on to old trucks particularly as new trucks with the latest bells and whistles continue to hit the market may come back to bite a fleet. It recalls scenes of that popular kid in the neighborhood with the latest TV, computer, video game and ultra-fast Wi-Fi: Everyone wants to be at his house. The analogy's not too far off for drivers who are looking to be comfortable, connected and protected by the latest technology. If they're less than satisfied, you may hear about it, or they may just vote with their feet.
"Driver feedback is critical, especially if you're a fleet hearing similar comments from multiple drivers," said Chris Visser, senior analyst and product manager of commercial vehicles for J.D. Power. "Sometimes decisions as simple as upgrading to a better driver's seat can make a difference. And if you're hearing comments about drivability, there may be an opportunity to spec your next order differently."
Mack Highway Product Manager Stu Russoli said getting driver feedback should be a priority when sizing up older equipment.
"Getting feedback from the driver, and actually listening and using the input from drivers as part of the buying process, can not only create goodwill among the drivers, but can also shed light on a truck's deficiencies and strong points," Russoli said. "In practice, this may not work for all fleets, but asking for a list of three to five things you like and three to five things you do not like can help pinpoint areas both good and bad. Also, a fleet might not want to ask all drivers, but may have a few driver reps report or collect verbal feedback during a driver meeting. In the end, the driver is interacting with the truck every day; they know what the good and not so good points are."
In addition to attracting new drivers, having the latest safety technologies in place also can invite lower insurance premiums and fewer accidents.
"What we're currently seeing is a huge focus on safety and various safety system technologies," Long said. "Autonomous braking, adaptive cruise control, lane guidance, lane keep assist, sideguard assist to see down the blind-spot of the trailer — all of these technologies have a huge impact right now for a number of reasons."
Fewer accidents mean fewer repairs and reduced insurance costs and legal fees, Long said. "We hear stories about nuclear verdicts," he said. "We hear stories about insurers dropping fleets, or at least putting them on a timeline of being dropped if they don't adopt the safety systems. There's a lot of trucks out there on the road today that don't have those safety systems. That seems to be a big push right now where we see fleets looking to make the decision to upgrade."
Also, newer engine technologies can result in improved fuel mileage and lower maintenance costs.
"Improved fuel mileage decreases out-of-pocket fuel costs," Rottweiler said. "Advanced connectivity services and telematics can increase uptime and productivity, saving the customer time and money with faster and less costly repairs due to early fault code alerts and over-the-air updates. It's up to the customer to determine the ROI and tradeoff between keeping their used trucks running or trading them in for the most up-to-date models."
ROI also can be impacted by transmission options. With a lot of young prospects already leery of trucking being a grind, fleets are spec'ing more automated transmissions in new trucks.
"Over the past six to seven years, we've seen a tremendous shift out of manual transmissions into automated transmissions," Long said. "If I have a fleet of late-model trucks with manual transmissions, that may be a reason to accelerate my replacement cycle, because I want to get into automated for efficiency as well as driver recruiting and retention. Automated transmissions opened up the driving career to a lot of people that otherwise would have not been interested or maybe felt unqualified."