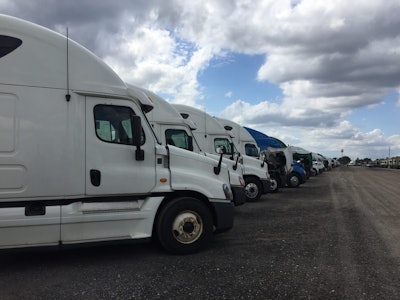 When trading in a used truck, it's not just the condition and mileage of the truck that counts, but also the fleet's reputation. Word gets out on who takes care of their trucks and who doesn't, which can impact trade-in value.
"Fleet reputation is a key factor in resale value for a company's equipment," said Brent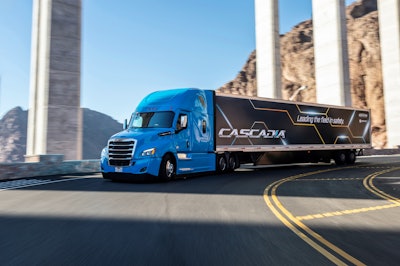 Rottweiler, vice president of remarketing for Volvo Trucks North America. "Part of this is attributed to how a company maintains and services their trucks, and part is associated with not just the age of the fleet, but also how they are equipped, i.e., aluminum wheels, trim levels, interior features and packages, etc."
Some duty cycles are more demanding than others, which can impact trade-in value. Still, fleets that are more dedicated to maintenance will come out ahead.
Finding a used truck doesn't have to be frustrating.
The new Equipment Experts online marketplace makes it easy – with detailed filtering, truck history reports and payment calculators.
"Factors impacting resale/trade value is equipment wear, in both mechanical and cosmetic terms, that can be attributed to specific use like refuse hauling, petrochemical transport, regional hauls in rough or high traffic conditions, etc.," said Don Nash, territory manager for Ritchie Bros. "This includes known wear issues on emissions, frame, drivetrain and undercarriage components that are often costly to repair and will directly impact resale value. All of this emphasizes the need for a robust maintenance program, routine periodic inspections and equipment performance reviews to help deliver you the best possible resale values."
Mack Highway Product Manager Stu Russoli recommends turning to fleet service techs for help in determining the trucks that have proven more costly to keep over others.
"If you own several trucks or a fleet, trust your maintenance people, and ask them what the best and worst trucks are in your fleet from a maintenance standpoint, get the details and trade out the lowest performing equipment," Russoli said.
"There obviously comes a point when your fleet of older equipment will need to be updated, especially when your TCO starts taking a hit. This is especially true for on-highway applications and with recent advances in aerodynamics, fuel economy, emissions and safety," Russoli continued.
Warranty coverage is another factor when considering trade-in value.
"One of the things that make a huge impact on maintenance costs increasing on a truck that's over 500,000 miles is the expiration of engine and/or transmission and axle warranties — engine in particular," said Ron Long, executive vice president of sales and marketing for Premier Truck Group. "The concept of having engine repairs being paid for by warranty versus being paid for by the fleet is a huge impact on the cost of ownership and operation."
Having a little warranty left on a truck can go a long way in terms of resale value. "With that, at the same time, buying an extended warranty is an option the customer chose upfront," Long said. "So if you didn't buy enough warranty, or you bought more warranty, it might influence when you trade. We always like to advise customers to trade with some warranty left. It allows that next buyer to get that truck and put it on the road for a few months with warranty coverage, which is a huge impact on being able to sell that truck in a secondary market."
Assessing the market itself also is important prior to making a big decision on equipment acquisition.
"The fleets want to make sure they have freight to haul and be profitable before buying new trucks," said Don Ake, vice president of commercial vehicles for FTR. "So looking at freight forecasts is important, because they indicate future sales and the need to expand the fleet. Rate trends and forecasts are an indication of future profits, determining if the fleet has the funds to buy new trucks."
As of late, the market has rebounded, though still not quite to pre-pandemic levels.
"It's a better time than it was a few months ago," Ake said. "The freight markets have recovered faster than expected, pushing rates, especially spot rates, higher. OEMs and dealers are offering price and financing incentives to move inventories. If you are confident that you have a decent supply of freight going forward, it's not a bad time to buy new trucks. Fleets may accelerate replacement cycles some if new trucks offer cost savings through fuel efficiency or safety features. Typically, this would be for fleets implementing four- or five-year replacement cycles."
If everything's penciling out, then you may want to buy now versus later.
"Incentives have pulled back from the peak of a few months ago, but there are still programs like delayed payments, attractive finance rates and lease deals to explore," said Chris Visser, senior analyst and product manager of commercial vehicles for J.D. Power. "Inventory should increase incrementally from here on out, but I'm not sure if there's much benefit to delaying a purchase at this point unless you literally can't find the specs you need."
Buying used may prove to be the better choice. If so, explore your options to maximize value.
"The online truck sales websites are a good place to start to see what's out there and at what asking price," Visser said. "When you get more serious, start watching the large no-reserve auctions to see what trucks are selling for. You could end up buying a truck that way. Also, most of the large fleets sell some of their own equipment online, and that equipment has generally been well-maintained. You can find their listings on their websites."