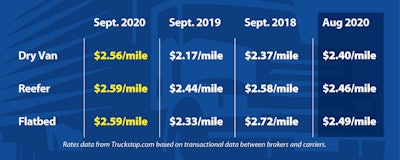 For-hire trucking companies added 4,600 payroll jobs in September, according to the Department of Labor's monthly employment report – the fifth consecutive month that trucking industry employment has grown. The recent shoots of growth follow huge dips in March and April, when fleets reported having to cut their workforces as the COVID-19 shutdown orders caused freight demand to flatline.
Likewise, spot market rates continue to surge as the freight rebound continues and the spot market has swelled with unanticipated loads that aren't being hauled under contract. Like employment, per-mile rates cratered in April and May. However, a boom in retail spending and goods-heavy consumption has caused spot rates to rally since June.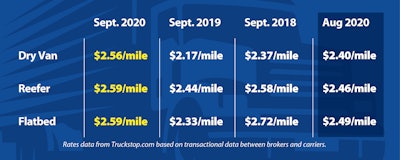 Per-mile rates paid to motor carriers on Truckstop.com's board last month reached heights of late 2018 — largely considered one of the best years on record for spot market rates activity.
According to monthly average rates data provided by Truckstop.com, flatbed and reefer rates hit averages of $2.59 per mile, while van rates hit $2.56.
Fleet hiring did slow some in September after a big jump in August, which saw a month-to-month gain of 10,000 jobs. All told, for-hire trucking has added back 23,800 jobs since May. However, that's still less than a third of the total jobs lost in March and April – 96,700, according to the DOL.
The broader U.S. economy in September added 661,00 jobs in September, and the country's unemployment rate fell to 7.9%, though that's partially due to workers reporting leaving the workforce and no longer seeking jobs.
For-hire trucking employment totaled 1,454,400 in September — down 57,900 jobs from the same month last year. Major freight producing sectors like construction and manufacturing continued to add jobs, too. Construction added 26,000 jobs in the month, while manufacturers added 66,000 jobs. The broader transportation and warehousing sector added 73,600 jobs, and the leisure and hospitality sector added 318,000 jobs, with the bulk of those – 200,300 jobs – coming in the food service and drinking sector.