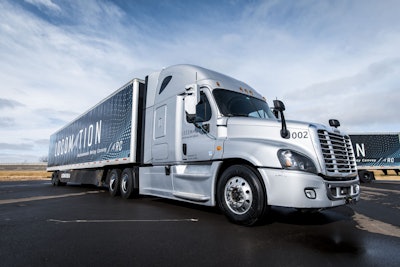 Trucking news and briefs for Monday, Oct. 5, 2020:
Truck-involved crash fatalities mostly unchanged from 2018 to 2019
Fatalities in crashes involving large trucks remained mostly unchanged from 2018 to 2019, according to statistics released Thursday by the National Highway Traffic Safety Administration.
NHTSA's report shows there were 5,005 fatalities in crashes involving at least one large truck (those with a gross vehicle weight rating of at least 10,000 pounds) in 2019, compared to 5,006 in 2018. NTHSA's statistics don't separate heavy-duty trucks (26,000-plus pounds GVWR) from light- and medium-duty trucks.
Additionally, large truck occupant fatalities also remained mostly even year-to-year, with 892 truck occupant fatalities in 2019 compared to 890 in 2018, NHTSA's statistics show.
Overall, traffic fatalities in the U.S. decreased by 2% from 2018 to 2019, falling from 36,835 fatalities in 2018 to 36,096 fatalities in 2019. The decrease occurred despite an increase in vehicle miles traveled in 2019, NHTSA notes.
According to NHTSA, fatalities decreased in 35 states, Washington, D.C., and Puerto Rico from 2018 to 2019, with the largest reduction in fatalities being seen in California and Pennsylvania. Fatalities increased in 15 states, with the largest increases being seen in Tennessee and Ohio.
NHTSA also released its early estimate for 2020 traffic fatalities, which shows an estimated 16,650 highway deaths in the first half of the year – a 2% decrease from the first half of 2019. The agency also notes vehicle miles traveled for the first half of 2020 were down approximately 16.6% year-over-year.
Autonomous startup Locomation planning commercial deployment beginning in 2022
Locomation, an autonomous trucking startup, announced Oct. 5 it will begin the commercial rollout of its self-driving trucks starting in 2022.
The company's first commercial product in a series of planned rollouts is Autonomous Relay Convoy (ARC), which allows one driver to pilot a lead truck equipped with technology augmentation while a fully autonomous follower truck operates in tandem.
ARC is the first autonomous driving approach headed for direct commercialization through a recent agreement with Wilson Logistics, Locomation says. Under the terms of the deal, Wilson will begin taking delivery of 1,120 Locomation-equipped trucks starting in 2022.
Locomation's trucks will utilize the Nvidia Drive AGX Orin autonomous vehicle computing platform to power their autonomous technologies.
"We're moving rapidly toward autonomous trucking commercialization, and Nvidia Drive presents an intriguing solution for providing a robust, safety-forward platform for our team to work with," said Dr. Çetin Meriçli, CEO and co-founder of Locomation. "This has the potential to enhance our process significantly, and we look forward to working closely with the NVIDIA team."