Trucking news and briefs for Wednesday, Oct. 7, 2020: 
Republic Services to begin testing of first Mack electric units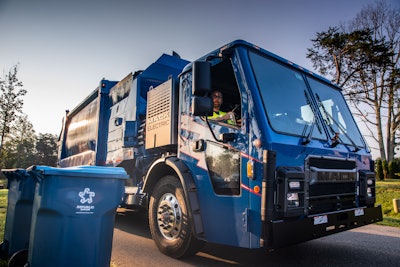 Mack Trucks on Tuesday handed over the keys to the first pre-production Mack LR Electric unit to refuse collection giant Republic Services, who is set to kick off in-service testing of the battery electric technology on residential recycling collection routes in Hickory, N.C.
Republic Services will evaluate the LR Electric for range, functionality and payload capacity and Mack expects to use the learnings from the trials to further refine the LR Electric as it prepares to open orders for the truck later this year, with production beginning in 2021.
Mack's diesel-powered LR Model is a waste collection staple and the refuse industry as a whole represents a healthy market for Mack Trucks. Jonathan Randall, Mack's senior vice president of North American sales and commercial operations, said the waste and recycling segment orders about 7,000 trucks per year, just more than half of which are cabovers.
Republic's LR Electric features Heil's Command-SST, an automated side loader refuse body optimized for electric collection trucks, but equipment bodies from various manufacturers will be available when the LR Electric enters production.
Mack Trucks Product Segmentation Project Manager Scott Barraclough noted that the Heil's Command-SST body-mounted ASL arm is a unique feature that frees up frame rail space for batteries or other auxiliary components. He added that the upfit's hydraulic system only draws power when needed, extending battery life.
The fully electric integrated powertrain features two electric motors that combine for 536 horsepower and 4,051 lb.-ft. of torque available from zero RPM. That power is fed through a two-speed Mack Powershift transmission to Mack's S462R 46,000-pound rear axles. Four NMC lithium-ion (Lithium Nickel Manganese Cobalt Oxide) batteries are charged via a 150kW, SAE J1772-compliant charging system. All accessories are electrically driven through 12V, 24V and 600V circuits.
On the hood, a copper Mack Bulldog signifies the truck's fully electric powertrain.
Options for spec include the same driver/passenger-side driving configurations, door selections and seating choices as diesel-powered Mack LR models. The LR Electric features an ergonomic design, similar to the diesel Mack LR, but with a few changes to the gauges and select switchgear.
Barraclough said the truck's near silent operation could be circumvented with an optional external sound generator in segments or routes where that could improve safety, namely that of neighborhood pedestrians who otherwise might not hear the truck coming.
The LR Electric will be monitored by Mack's proactive telematics solution GuardDog Connect, and will be supported by Mack's dealer network.
—Jason Cannon
KeepTruckin launches loadboard with brokerage partners
The KeepTruckin company, more than a year after announcing work toward a freight platform, has finally debuted its Smart Load Board, a freight matching system available free to users with KeepTruckin accounts. Partners in the launch include a variety of brokers and carriers with brokerage wings, ranging from Echo Global Logistics and Uber Freight to Edge Logistics, Bennett, EPES Logistics, Page Trucking, Keller Freight Solutions and Parade.
Aman Shahi, product manager for the board, defined the solution's intelligence as a function of just what it can do particularly for users of KT's ELD product who opt in for location data sharing to help the system deliver recommendations.
While "anybody can use the Smart Load board," Shahi said, "we're really able to drive value for this product if they're on our ELD – the power and impact on the day-to-day operations is much greater if you're on the ELD." The same, he added, can be said for ELD-exempt users of its logbook application untethered to the truck's ECM.
For those not utilizing KT applications, the company "can still do matching for them," but it's a question just how relevant load recommendations may be, or "how well" the matching is conducted.
—Todd Dills