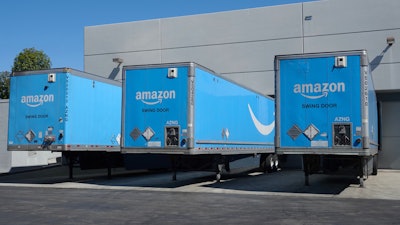 Transportation companies that have business in retail supply chains have seen freight volumes surge since June — largely credited to consumers changing their buying habits during the COVID-19 pandemic.
A large percentage of consumers are working from home and have shifted their spend on travel and entertainment to physical products.
And with peak retail season around the corner, online and big-box retailers are scrambling to lock down transport and warehouse capacity, especially in the "middle mile" of their supply chains from truckload and less-than-truckload carriers.
For example, the surge in e-commerce freight in the third quarter caused the world's largest online retailer, Amazon, to begin limiting its warehouse capacity and fulfillment of products from third-party sellers.
Many third-party sellers that use Amazon's marketplace have also ran into warehouse and transportation capacity issues to fulfill orders sold from their own websites and from other marketplaces like Walmart and eBay.
Contract-based logistics providers such as Ryder have seen business increase as sellers look for alternatives to fulfill orders through Amazon and other marketplaces.
In 2018, Ryder (CCJ Top 250, No. 13) established an e-commerce storage and fulfillment network by opening warehouses in Southern California and in Texas. This year it added a third warehouse in Pennsylvania last March.
"We are positioned to be an alternative to 'fulfillment by Amazon,'" said Ryan Singerline, senior director of customer logistics for Ryder.
In addition to fulfilling orders, Ryder provides managed transportation services to facilitate inbound freight to its warehouses from truckload and LTL carriers. For outbound shipments, Ryder negotiates favorable rates with big parcel delivery companies and final-mile carriers, he said.
Just-in-time inventory no longer works in today's retail environment with online and big-box retailers needing to add new warehouses and distribution centers near metro areas to fulfill orders in two days or less, said Jason Lewis, national sales manager, transportation and logistics, for Panasonic.
During the peak season, retailers will need to bring on new warehouses, and this will require the ability to roll out fleet capacity, technology and services quickly, in as little as one week. Panasonic has a program to help its customers expedite technology deployment for peak season, he said.
Eighty percent of Panasonic's transportation customers are last-mile delivery courier fleets that use its Toughbook line of mobile and handheld computers, such as the FZ-N1, to scan barcodes on freight to provide better delivery visibility.
While other sectors of the economy are shedding jobs, transportation is adding them. Lewis said that Panasonic's courier fleet customers are expecting to hire between 160,000 and 200,000 employees from October through January, and many of these jobs will become permanent positions.
Consumer habits shift in the COVID economy
Normally, consumers spend around one-third of discretionary income on goods and two-thirds on services. In the second quarter, which encompasses the worst of the pandemic-related economic downturn, the sales of goods fell less than 5%, while services fell by nearly 15 percent. In the third quarter, the demand for goods swelled above pre-COVID-19 levels, said Bob Costello, chief economist of the American Trucking Associations, during a presentation at the McLeod user conference last month.
Costello predicted a recovery for services will not come until the end of 2022 and that sales growth in goods will flatten out.
E-commerce has been the largest benefactor of the shift in consumer spending. From April to August, e-commerce sales grew 22.3% above pre-COVID levels, according to the U.S. Census Bureau. Total retail sales from April through August went down by nearly two percent compared to January through August of 2019, however.
Retail analysts expect that peak holiday sales will jump another 25% in e-commerce but remain flat overall compared to 2019 levels.

Fleet executives face unique challenges in their roles every day, especially in 2020.
During the seven sessions of CCJ Virtual Solutions taking place October 19-22, you'll get answers to your toughest fleet management problems from the top leaders and business minds in the trucking industry. Registration is free and sessions include:
Biden vs. Trump: What the Next President Could Mean for Trucking
Costly Jury Verdicts Driving Up Insurance Rates
Heavy Hitter Insights on Freight Flows
Electric vs. Hydrogen: Trucking's Next Big Thing?
Putting Driver Safety Data to Work
Unplanned Maintenance's Impact on Total Cost of Ownership
Raising the Bar: How to Discover and Draw Top Talent
Temperature-controlled food haulers have benefitted as well from the shift in consumer spending. Restaurant sales are down nearly 20.5% year to date, but grocery sales have gone up by the same amount, Costello noted.
In addition to more loads for physical goods, motor carriers have been moving more shipments to replenish low retail inventories which are at all-time lows due to higher online sales and delivery expectations, he said.
The spot market has returned to levels that are slightly higher than in 2018, Costello said. The surge in retail goods have benefitted dry van truckload volumes, which increased by 8.8% in June and 5.1% in July, year over year. Temperature control shipments also went up 6.9% in July.
Flatbed and tanker loads are down, but Costello anticipates that flatbed will have a quick turnaround with home construction anticipated to be high from low interest rates.
LTL dropped nearly 20 percent in the first quarter but recovered in the second quarter, and year-over-year LTL shipments are up by a small margin. Costello credits this to some overflow freight coming from the truckload segment where capacity is tighter.
Load tracking data from FourKites, a supply chain visibility platform, show that shipping volumes were rising across its network by about 2% per week starting in early July. Volumes jumped by as much as 8% in mid-July, with most of that growth coming from the retail sector.
FourKites expanded its suite of products in the retail sector and has tracked 170% more loads for retail customers such as Meijer, Michaels Stores, Walmart Canada and PetSmart and saw its retail customer base grow by more than 20%. The number of carriers that haul freight for its retail customers increased by 33%.
Overall, FourKites says it has tracked more than 1.75 billion miles for retail customers, which is a 265% increase year-over-year. Retail, food and beverage, and consumer packaged goods accounted for nearly 80% of the growth in freight volumes from June through September.
Home improvement retail has been especially hot, said Derek Leathers, chief executive of Werner Enterprises (CCJ Top 250, No. 11), who will be sharing his insights on freight trends in a free webinar event, CCJ Virtual Solutions, Oct. 20 at 2 p.m.
"I think as people have sheltered in place they've really learned every nook and cranny of their house," he said. "They are spending a lot of money in the home improvement space. Those volumes have been up, stayed up and continue to be up as we go into the fall."
Leathers said that Werner has never seen inventory levels so low. When comparing same-store sales growth to inventory depletion, the gap is "larger than at any point in our tracking," he said. "I think there is going to be lot of restocking."
"We saw a really strong July, which was shocking to carriers and shippers alike in its magnitude," he continued. August was likewise very strong. Going into peak freight season, Leathers said that freight demand in the summer months has been at or above normal peak levels.
"How we are all going to juggle this over the next few months is going to get really interesting," he said.