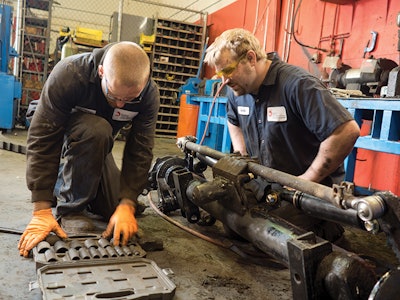 Trucking, like many other industries, is comprised of haves and have-nots.

Fleet executives face unique challenges in their roles every day, especially in 2020.
During the seven sessions of CCJ Virtual Solutions taking place October 19-22, you'll get answers to your toughest fleet management problems from the top leaders and business minds in the trucking industry. Registration is free and sessions include:
Biden vs. Trump: What the Next President Could Mean for Trucking
Costly Jury Verdicts Driving Up Insurance Rates
Heavy Hitter Insights on Freight Flows
Electric vs. Hydrogen: Trucking's Next Big Thing?
Putting Driver Safety Data to Work
Unplanned Maintenance's Impact on Total Cost of Ownership
Raising the Bar: How to Discover and Draw Top Talent
Some carriers willingly splurge on the latest and greatest trucks and tech, while others prefer to have just enough to get through the day. That's all well and good if that's part of a
business strategy
, but it's more problematic if there are underlying flaws – the cost of unplanned maintenance, for example – in the business that prevents management from investing in the company.
Jim Buell, FleetNet America executive vice president of sales and marketing, and Marvin Keller Maintenance Supervisor Greg Sullivan will discuss unplanned maintenance's impact on total cost of ownership Oct. 22 as part of CCJ's Virtual Solutions. Carriers who attend the discussion should walk away with a good understanding of industry averages, allowing them to assess how their maintenance costs and breakdown incidents stack up among peers.
The average fleet participating in FleetNet America's Q2 benchmarking report traveled 38,474 miles between unscheduled roadside repair – a 61% improvement from the nearly 15,000 miles logged by the truckload segment at the start of the year.
The nearly 23,000 miles averaged between breakdowns during the heart of the COVID-19 pandemic set a record for the truckload segment – a figure that has trended upward since the end of 2017.
Six VRMS systems – tires, brakes, lighting, trailer frame and chassis, the cranking system and reefers – made up 76% of all unscheduled roadside repairs for truckload carriers during the period, but the disparity between carriers who are absolutely killing it when it comes to controlling maintenance costs and those who are struggling is somewhat astounding.
The best performing truckload carrier went 37,000 miles between breakdowns. The lowest performing carrier logged just 12,620 miles. The average for the truckload segment was 23,990 miles.
The less-than-truckload segment averaged 53,802 miles between breakdowns but the best-in-class fleet ran nearly 30% more miles (69,432) than the segment average and more than 90% above the lowest performer, who posted 36,433 miles.
Excluding tire repairs and tows, the average fleet spent $522 per roadside mechanical repair during the second quarter, the highest this total has been in the history of the quarterly report. This total is mostly being driven by the complexity of the modern truck and labor rates in a highly competitive job market. For example, Buell noted that a simple tire change isn't nearly as simple as it once was. Beyond taking the tire off and putting a new one back on, technicians now in many cases have to remove and reinstall tire inflation systems, driving both complexity and billable hours.
Today's trucks generate mountains of data, and reports like FleetNet America's quarterly benchmark provide good supplementary information, but all that intel is meaningless unless carriers do something with it.
Participation in FleetNet America's benchmarking program is free and gives carriers a first-hand look at how their breakdowns stack up against peers. Fleets that have an internal benchmark may discover that their milestones are but a fraction of their competitors, or may discover that areas where they place the most emphasis are yielding the least amount of benefit. For example, tires and brakes get some of the most rigorous preventive maintenance of any system on the truck, but during Q2 2020 fleets were getting almost 60,000 more miles between brake-related breakdowns than at the beginning of the year, but about 11,000 fewer between tire-related incidents. Both are important, but there's clearly an opportunity for better work on tires.
The line separating trucking's haves and have-not is thin, but everyone has the same opportunity to dive headlong into actionable data. A carrier's willingness to invest time into more clearly understanding unpredictable expenses could be just the thing that pushes the company from also-ran to best-in-class.