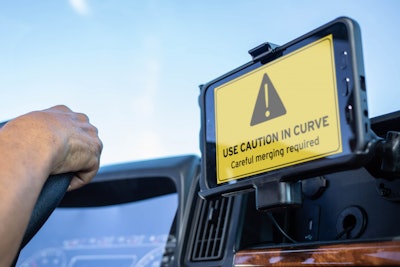 Motor carriers are getting more from their subscriptions to weigh station bypass services than lower inspection pull-in rates.
On Wednesday, Drivewyze added a new connected truck service to its existing Pre-Clear weigh station bypass service that runs on fleet telematics systems, tablets and smartphones. Using cellular connectivity the bypass service identifies and clears vehicles in advance of inspection sites and weigh stations.
The new connected service, Drivewyze Safety+, has an expanded feature set for an existing Drivewyze Safety Notification service that gives drivers advance warning of high-risk areas on the road. The alerts include an audible warning and pop-up visual on the display of fleet telematics platforms.
A two-year study with J.B. Hunt (CCJ Top 250, No. 3) that involved thousands of trucks found that Drivewyze safety alerts for high rollover curves resulted in drivers reducing speed by 17%.
Safety+ includes the full set of more than 2,500 curated Drivewyze Safety Notifications the company developed in relationship with U.S. states and Canadian provincial safety agencies. The notifications are for high-risk safety zones and include upcoming high-rollover corners, low bridges and mountain corridors — with alerts that tell drivers to use low gears, check brakes, upcoming runaway ramps, etc.
Safety+ comes with a new web-based Drivewyze HUB dashboard for fleet managers to view analytics and reports on how drivers adjusted their speeds in response to the alerts. The analytics put the driver behaviors in context of the location and type of risk warning they received.
With the HUB dashboard, fleet managers can see how a particular driver is reacting to the safety notifications, view the best and worst performers, and track the progress of the entire driver pool.
Drivewyze offers the new Safety+ service as a monthly subscription that can be bundled with PreClear bypass service, which is offered by ELD and telematics vendors in Drivewyze's partner network that include Trimble, Omnitracs, Geotab, Orbcomm and more.
Telematics vendors install Drivewyze on their hardware and activate the service when fleets subscribe. At present, Drivewyze has software installed on more than 2.2 million devices in the field.
A Safety+ subscription also includes Proactive Speed Alerts to help drivers prevent speeding infractions by warning of upcoming "high-citation zones" based on cumulative citation history from law enforcement. The alerts warn drivers that are driving too fast in known high-citation areas to slow down.
Drivewyze said results from fleets who use the speed alerts show a 27% reduction in speeding events for drivers going at least 5 mph over the speed limit.
In addition, Drivewyze said study data showed unsafe drivers who were identified by Safety+ were 400% more likely to be in an accident than their peers.
Custom safety alerts
In addition to the standard set of safety notifications, the Drivewyze Safety+ service lets fleets create their own customized driver alerts for high-risk areas in the HUB portal and monitor how drivers responded to the alerts for coaching.
The Custom Alerts let fleet managers geo-fence their own high-risk areas or other areas of importance to deliver custom in-cab messaging. A manager can create alerts for areas that are known for high-crash rates, violations, or security-related risks, said Brian Heath, chief executive of Drivewyze.
"Or it can remind drivers about restrictions when entering yards, road closures, and even deliver temporary notifications along fleet routes. Our customers have complete control over custom alerts, and unique in-cab messaging," he said.
Another added feature in Safety+ is dynamic parking alerts, which lets drivers know the number of parking spaces available at upcoming rest areas in nine states. Drivewyze expects more states to be added. The alerts provide in-cab messaging with the actual number of parking spots available, in real-time, so that drivers can make the decision to continue on to the rest area or look for alternative parking.
According to Heath, numerous fleets beta-tested Drivewyze Safety+ and the reaction was "extremely positive," which he said, "confirmed that this type of proactive service is needed."