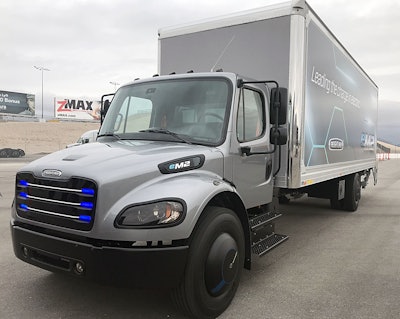 At a time when fleets are focusing heavy on driver retention, electric trucks just might help to keep more drivers at the wheel. There's just not a lot data yet to prove it.
Beyond the novelty of driving one of these high-tech haulers, drivers play an important role in monitoring the truck on the road, providing feedback and finding a sweet spot on maximizing range.
At GSC, the majority of drivers are owner-operators. Three company drivers, all veteran truck drivers, have been driving the BYD 8TTs.
"I was waiting for the complaints to come but they never came," said Brandon Taylor, GSC Logistics director of transportation which is operating three BYD 8TT tractors at the Port of Oakland. "The guys are just really happy with — they're really quiet, there's a lot less vibrating in the tractor than a diesel tractor. I think it's taken less toll on their bodies than the diesel tractors. They're all happy with the air conditioning and the heater. That worked great. Obviously, no diesel fumes to deal with all though diesels have cleaned up quite a bit in the last few years."
The 483-hp trucks can instantly access 1,770 lb.-ft. torque which left the drivers thoroughly impressed with their power. Another perk came from the absence of manual gear boxes.
"They're automatics," said Jim O'Leary, vice-president of fleet services for NFI. "They weren't having to mess around with the manual transmissions especially at the port. There's a lot of stopping and starting, a lot of backing up, a lot of parking and things going on at the port. Really, the application works really well at the port."
NFI has jumped in deep with electric trucks. In addition to 10 eCascadias the carrier is operating 27 Kalmar electric yard tractors. Daimler's Innovation Fleet supplied the eCascadias which have been busy operating out of NFI's 15-million square foot warehouse campus in Chino, California.
Penske Truck Leasing made headlines at the Advanced Clean Transportation Expo in Long Beach, Calif. in April of 2019 when it unveiled what's believed to be the first heavy-duty electric charging stations in the U.S. Fourteen high-speed chargers were opened across four of its facilities in Southern California.
Electric trucks followed including Freightliner's Class 8 on-highway eCascadia and their medium duty box truck eM2 106. Penske's partnership with Freightliner's parent company Daimler Trucks North America brought the companies together in 2018 to test and improve electric trucks in real world conditions. Daimler's Innovation Fleet provided Penske with 10 eCascadias and 10 eM2s.
At Penske, the eCascadias have been well-received by drivers.
"We do frequent driver interviews," said Paul Rosa, senior vice president of procurement and fleet planning at Penske Truck Leasing. "We try and do them weekly just to get good feedback and be sure we're understanding what they provide. They've invested time in this as well. We want to be sure we're capturing what their observations are and then getting that back to all the companies we're working with on electric vehicles and making whatever adjustments need to be made. So far, the comments have been tremendous.
"A driver even said, 'I'm in awe of this. I love it. It's exciting to drive,'" Rosa continued.
Other drivers have praised the trucks' quick acceleration, smooth ride, ability to easily climb hills and "no diesel smell. They get happy about that," Rosa said.
Regenerative braking has become "an exciting challenge" among drivers, Rosa said, where they try to increase range by taking advantage of opportunities where regenerative braking can be put to work.
"They love the regenerative braking," Rosa said. "You learn how to drive the vehicle and that is as you're going down a hill—small hill, low grade—and you let the regenerative braking stop you then you can gain range as it regenerates the battery.
"Also when they don't take off as fast and when they don't slam on the brakes to stop quickly, they want the regenerative braking to give additional power back into the battery," Rosa continued. "That's what they like. They've actually made it a little competition for themselves. And then you have that spirit across the other drivers as well that might get in it. It's kind of a fun thing as well as a learning thing."
Driver feedback has also portrayed the eCascadias as being easier to drive than conventional trucks.
"When you probe on that and ask, 'What do you mean, it's easier to drive?' They say it's smoother," Rosa said. "I don't know if it's the way that it's assembled and the way that the battery is put between the frame rails which makes it a more stabilized ride. I think that's some of what they're saying. It doesn't sway maybe as much. It responds to the steering much quicker because of that. I think there's something to say there. But certainly it's performing better from a driver perspective."
Drivers at NFI have also given eCascadias high marks.
"The drivers love the trucks," said O'Leary who added that the truck's power has gotten most of the praise.
"When our drivers first went into the trucks they were amazed with the power and how good the ride was: no vibrations, not losing any power on hills—and there's not that many hills—but there are bridges going into the port and things like that," O'Leary said.
"They talked about maintaining their speed passing up other trucks onto the on-ramps, things like that, O'Leary said. "But the other thing that I heard from the drivers is not having to deal with the fueling process. Having the trucks cleaner. The truck doesn't smell. They don't come home smelling like diesel. They don't have to deal with the fuel lines. They don't have to deal with fuel spills. All of those things that you don't really think about—it's almost like a quality of life kind of thing that the drivers have been really happy with."
Electric trucks don't appeal to everyone. At NFI, drivers are split on the technology. Those that drive the eCascadias love it, O'Leary said, while other drivers are content with driving oil burners and have little interest in driving a battery-powered rig.
"It's interesting," O'Leary said. "We've actually experienced a little bit of a reluctance of them being almost afraid of the technology. We're not forcing it onto anybody. For every guy that was dying to get in, we also had a guy that said, 'Get me out of it. I don't want anything to do with that.'
"I think over time as we introduce more trucks that will slowly dissipate because in five years they're not going to have an option—they're going to be in an electric vehicle in California," O'Leary continued.
Despite all the positive feedback so far, O'Leary said it's too early to tell if electric trucks will help with driver retention. In fact, carriers may have some work to do to get more drivers on board for electric trucks.
"We do get asked all the time as a selling point if we think it's going to help with driver retention," O'Leary said. "I don't know that we can answer that at this point. I don't think we're losing drivers because of it. For every driver that was clamoring to get in – the drivers that drive it, love it – you also had a person that was pretty reluctant on the other side."