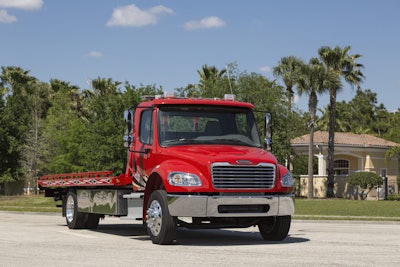 Trucking news and briefs for Wednesday, Nov. 25, 2020: 
Carriers' per-mile costs decreased in 2019
Following a record year in 2018 for freight demand and the highest tonnage in 20 years, trucking in 2019 saw a contraction that resulted in a dramatic per-mile cost decrease for fleets across the country, according to the latest Operational Costs report from the American Transportation Research Institute.
Carriers responding to ATRI's report saw in 2019 a reduction in a number of costs, including fuel, repair and maintenance, as well as driver wages and benefits. According to ATRI, the per-mile costs of trucking contracted from $1.821 in 2018 to $1.652 in 2019 – a 9% decrease.
Of carriers who responded to the survey, 28% were from fleets with more than 1,000 power units; 19% were from fleets with 251-1,000 power units; 13% were fleets with 101-250 power units; 31% were from carriers with 26-100 power units; 9% had 5-25 power unites; and 1% had less than 5 power units.
The largest single line-item cost continued to be driver wages, representing 32% of the operating cost per mile. However, the combined percentage of driver wages and benefits fell slightly, from 43% in 2018 to 42% in 2019.
Carriers in 2019 spent 53.3 cents per mile on driver wages and 16 cents per mile on driver benefits, the report shows, down from 59.6 cents per mile for wages and 18 cents per mile for benefits in 2018.
Carriers did, however, pay out more in driver bonuses in 2019, with safety, starting and retention bonuses all increasing year-over-year.
The largest percentage decreases in operational costs in 2019 were seen with repair and maintenance costs and truck insurance premiums (16% and 19% decreases, respectively). Repair and maintenance costs fell from 17.1 cents per mile to 14.3 cents per mile, while insurance premiums fell from 8.4 cents per mile to 6.8 cents per mile.
"While the 2019 insurance costs show a per-mile decrease, insurance companies report that trucking fleets are assuming higher risk levels through higher deductibles, self-insurance, expanding use of insurance captives, and lower levels of excess liability coverage," ATRI says.
"Given the substantial insurance cost increases over the last several years, it appears that the industry has reached a ceiling in its ability to continuously cover annual double-digit increases in insurance premiums."
Additionally, fuel costs fell 9% in 2019, from 43.3 cents per mile to 39.6 cents per mile, reflecting the national decrease in diesel prices of 12 cents from 2018 to 2019.
When broken down by industry sector, each of truckload, LTL and specialized/other saw cost per mile decreases in 2019. The largest decrease was seen by truckload carriers, where the cost per mile of $1.55 was a decrease of 9%. Specialized/other carrier cost per mile was $1.85, an 8% decrease. The LTL segment's cost per mile of $1.85 represented a 3.5% drop from 2018.
FMCSA seeks feedback on brokers' request to rescind certain rates transparency regs
The Federal Motor Carrier Safety Administration is accepting comments through Jan. 25, 2021, on a request from freight brokers asking the agency to rescind certain regulations pertaining to brokered transaction transparency.
In its petition, the Transportation Intermediaries Association requests that FMCSA rescind 49 CFR 371.3(c) concerning the rights of parties to a brokered transaction to review the records of the transaction.
TIA argues that the regulation, established in 1980, doesn't apply in today's marketplace. The group adds that the spot market is "one of the most transparent marketplaces in the world," noting that load boards, the internet and rate quotes in person-to-person communications within the industry "provide the rate transparency that was intended by 49 CFR 371.3 when commissions paid by carriers to brokers were common."
The group also asks FMCSA for regulatory guidance regarding "dispatch services," which TIA says it believes are essentially unlicensed brokers. TIA believes FMCSA should publish regulatory guidance explaining that the legal duties of a dispatch service allow them to be an agent for one motor carrier, and that anything further requires a brokerage license and compliance with the financial responsibility requirements applicable to brokers.
FMCSA is asking commenters to provide responses to seven questions, which can be found here. Comments on TIA's request can be made here through Jan. 25.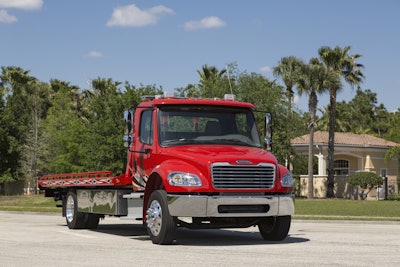 Daimler plant celebrates two milestones
Daimler Trucks North America's Mount Holley, North Carolina, Truck Manufacturing plant recently surpassed two milestones – its 41st anniversary and the production of its 700,000th truck.
The truck, an M2 106 extended cab, was presented to Miller Industries, a towing and recovering equipment manufacturer based in Ooltewah, Tennessee.
More than 800 employees at the Mount Holly Truck Manufacturing plant produce the M2 106, as well as Freightliner's line of severe duty truck models.