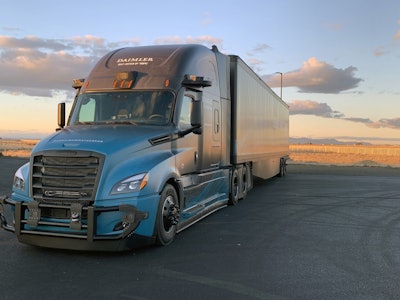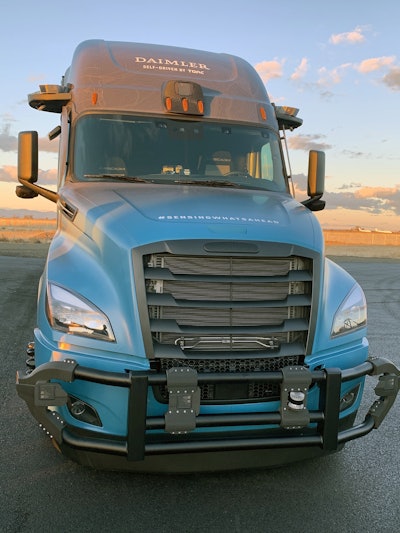 I've seen the future. I even got to touch it.
It looks like it has a spinal injury … and braces.
I didn't get to drive it, but I'm not sure it needed me to. In fact, I'm certain that it didn't.
Parked inside Daimler Trucks North America's (DTNA) Madras, Oregon, proving grounds is a unique Cascadia. What looks like a neck halo from a distance is actually a sophisticated network of cameras and sensors mounted above the doors that enable driverless driving. Several more are clustered inside the cab at the top of the windshield.
The braces? Pretty much the same deal, yet packaged on the front bumper like a bull bar.
The entire set up is basically a set of "eyes" for DTNA's second generation autonomous truck, which is technologically enabled through the company's partnership with Torc Robotics.
Freightliner's approach to driverless technology can be best described as measured yet varied.
The company has been working with Torc for a couple of years, and took an ownership stake in the company last year. In October DTNA partnered with Luminar, who will work on the development of the Cascadia's lidar systems to enhance its sensing, perception and system-level performance, along with its integration into the truck's powertrain and autonomous control system. Again, DTNA took an ownership stake.
It just recently signed a partnership with Google's sister company, Waymo. With more than 20 million miles on public roads in 25 U.S. cities and 15 billion miles in simulation, if there's a leader in the autonomous driving clubhouse, Waymo is probably it.
The goal through all three partnerships is the same: to bring series-produced highly automated trucks (SAE Level 4) to roads globally. Considered "high automation," Level 4 is the first autonomous driving level at which the vehicle itself can intervene in the event of a system failure and does not require human intervention in most circumstances. Humans still have the option to override functions manually.
Driverless technology will be ready long before a positive public perception of its capabilities, especially when it comes to big trucks. In the meantime, DTNA's Autonomous Vehicle Project Leader and Director Anika Friesinger said the truck maker has focused on safety and how this technology could fit into a fleet's operation, noting the company's thought processes on the ongoing development of driverless technology is evolving.
"We are interested in how [fleets] are moving freight today [and] which business models will be prime candidates for autonomous trucks when they are ready for deployment," she said.
Those questions to fleet customers have blossomed into two-way conversations and Friesinger noted some carriers have started asking questions of their own about how they can prepare for the autonomous future.
"We are getting questions about what kind of trailers fleets should be buying today and what features they should have," she said, "so they will be compatible with autonomous trucks when they do appear."
So when will this autonomous future arrive? In the future. That's about all Friesinger would say, noting that the company has shied away from targeting a date as it focuses only on refining the technology to the safest and most reliable levels possible.