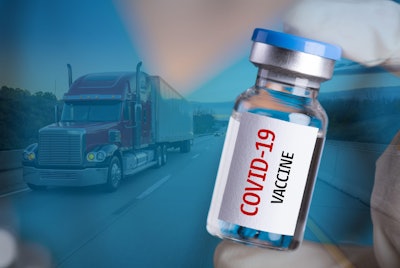 Two COVID-19 vaccines are expected to receive federal approval in the U.S. within a matter of weeks. With 60% of Americans claiming they will get the immunization, according to Pew Research, demand will be high for the 70 million doses expected to be available by year's end.
Transport of the vaccine comes at a less than ideal time. Capacity is already tight. Winter weather and snowy and icy driving conditions are gripping parts of the country, and with public outcry for a coronavirus cure growing louder by the day, Boyle Transportation Co-President Andrew Boyle called vaccine distribution the "most complex logistical challenge since World War II."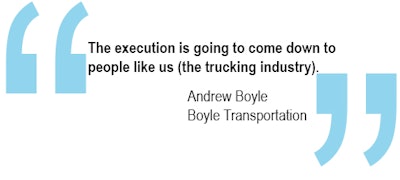 Based in Billerica, Massachusetts, Boyle Transportation is a specialized trucking firm with clients in government, defense and life sciences, with expertise in the pharmaceuticals and life sciences space.
More consumer dollars are being spent on goods than services since the onset of the pandemic, yet there are fewer trucks and drivers to move them – with scads of vaccines waiting in the wings.
"Goods and stuff have to be shipped," Boyle said. "When people spend more money on stuff, that puts more premium on transportation."
The inventory-to-sales ratio is at its lowest point in six years, putting more pressure on just-in-time transportation, Boyle added. The Drug and Alcohol Clearinghouse has removed 27,000 drivers from the industry since January, and trucking school closures and social distance limitations are keeping new entrants out of the labor force.
"We're like a factory that's running at 80% capacity, yet we have 150% demand," Boyle said.
An expedited supply chain
In most cases, the COVID vaccine will require two treatments roughly three weeks apart, meaning a global population of 7 billion people will need 14 billion vaccines. Over a period of 2 years, Boyle noted, manufacturers will have to crank out 20 million doses per day just to meet demand.
Development of a vaccine is generally an eight- to 12-year process, but the COVID vaccine will be engineered and deployed in less than a year, slashing the amount of time manufacturers and carriers have to build out a supply chain by more than 90%.
Supply chain challenges have already prompted Pfizer to slash the number of vaccines it expects to produce before the dawn of 2021 by 50%.
Because the COVID vaccine has specific – and extremely cold – temperature requirements, the hardest part of vaccine distribution will simply be getting the vaccine from Moderna and Pfizer into the hands of the people who need it., said Mike Kucharski, co-owner and vice president of Summit, Illinois-based JKC Trucking and owner of Cold Summit Storage, said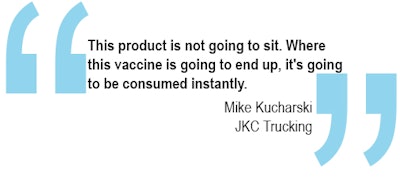 Once the doses are ready for distribution, Kucharski expects manufacturers seeking transportation partners to "throw money at truckers to pick up the product."
"And what trucker wouldn't, when these loads come in, take the high paying loads? 2020's been a bad year," he said. "All drivers, all trucking companies, have lost a lot of money this year. Of course they're going to go for the high paying loads because they've been battered when the rates fell."
Hauling pharmaceuticals isn't as simple as just switching gears, and Boyle feels it's unlikely that many reefer carriers will shun their normal loads in favor of vaccines. But drivers could be tempted by pharma carriers chasing freight, and since many of the major drug distributors in the U.S. operate their own fleet, a boom in vaccination loads could put stress on an already tight driver and truck market.
Freight volume recently has dipped slightly on the heels of a second wave of regional pandemic shutdowns and restrictions. Vaccine shipments would be welcome loads to affected carriers, but, said Kucharski, "states will start opening back up as the vaccine comes on line. Everything's going to be happening at the same time and rates are going to skyrocket."
Boyle lauded scientists and front line employees for their work in quickly spinning up a vaccine that, to-date, has shown a high rate of success, but he was keen to point out that the real work is just about to start.
"The execution is going to come down to people like us (the trucking industry)," he said.
At least initially, Pfizer's distribution plans calls for vaccines to go from internal production directly onto trucks for distribution. Moderna will likely contract out manufacturing and ship doses to distribution warehouses before trucking them to consumers.
"This product is not going to sit," Kucharski said. "Where this vaccine is going to end up, it's going to be consumed instantly."
The vaccines should come at a fairly opportune time for third-party cold storage operations should they be drafted to help, Kucharski added. Businesses have been building stock for the holiday crunch since the fall and have been using that inventory into the homestretch to Christmas, creating natural storage availability that dovetails with a potential need.
The American Trucking Associations sent letters to the White House, the CDC Advisory Committee on Immunization Practices, President-elect Biden and the National Governors Association asking that the trucking industry's workforce be included in prioritized access pools along with other essential workers once a COVID-19 vaccine is approved and ready for distribution. Drivers and logistics employees are currently in the second tier priority.
Kucharski said he would like the see vaccination stations set up roadside for drivers interested in getting vaccinated, similar to the drive-thru COVID testing stations governments installed in the throes of the pandemic. Leaning on carriers to carry out vaccinations at terminals, he said, could delay inoculation for drivers who rarely have the ability to swing by.