Whether it's next week or next year, trucking will play no small role in deploying COVID-19 vaccines around the U.S. The hauls are likely to be trickier and more sensitive than other types of freight, and the extreme temperature requirements of some of the vaccines poses hurdles. With capacity already tight, an infusion of vaccine freight could cause delays for other time-sensitive, refrigerated goods. Nonetheless, from truckload to final mile, carriers and logistics personnel say they're ready to go when the vaccine is.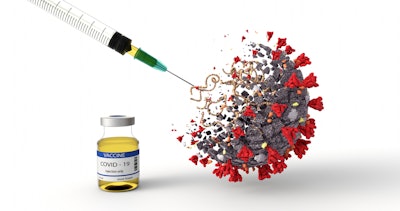 A wave of good news over the past week from major pharmaceutical companies regarding the success of experimental COVID-19 vaccines could lead to the deployment of tens of millions of doses to be administered by year's end.
Pfizer, who said its vaccine trial showed an effective rate of 95%, hopes to administer some 50 million vaccine doses by the end of next month. Likewise, Moderna, who on Monday announced a 94.5% effective rate for its COVID vaccine, said it hopes to distribute 20 million doses before New Year's Day.
Use of those vaccines is still dependent upon FDA stamping approval on the companies' requests for emergency use. Nonetheless, getting millions of vaccine doses – some of which are required to be kept at -70 degrees Celsius (almost 100 degrees below 0 degrees Fahrenheit) – to the hospitals, pharmacies and clinics where they'll be administered will take a coordinated supply chain effort and more than a few very cold reefer trailers.
The temperature range of the Moderna vaccine falls well within the typical range of the refrigerated pharmaceutical loads handled by Bio Pharma Logistics (BPL), said Rick Hartlage, BPL's chief operating officer. BPL is an asset-based carrier that specializes in hauling frozen blood plasma as a raw material for pharma companies to use in making medicines and, currently, treatments for COVID-19. Hartlage said BPL's loads typically are transported at between -29 Celsius and -35 Celsius.
Unlike Moderna's vaccine, the extreme cold temperature requirements of Pfizer's vaccine poses "hurdles that are going to have to be overcome," said Hartlage.
But with dry ice techniques and special packaging developed by Pfizer, which the company says maintains the -70 Celsius requirement for enough time to transport the vaccine from manufacturer to distribution points, standard refrigeration temperatures of -30 C should be up to the task, said Carrier Transicold, a prominent supplier of refrigerated units for trailers.
The company in late October announced it had developed so-called Carrier Pods in partnership with monitoring firm Sensitech, intended as an all-in-one option for carriers tapped to haul COVID-19 vaccines.
"We've been working with carriers to prepare for [vaccine distribution]," said Chris MacDonald, a senior vice president at asset tracking provider Orbcomm. The carriers MacDonald has worked with so far specialize in pharmaceutical freight, so they're well adept to the loads' strict guidelines and unique challenges.
A key point in COVID vaccine distribution, MacDonald said, will be real-time monitoring of temperature control and location of the vaccine shipments. "From Orbcomm's perspective, we'll be right there with our carrier. They'll have 100% visibility from the time it's loaded to the time it's delivered. They'll be able to monitor temperature and react to any alarms if it falls outside the temperature range."
At the end of shipments, carriers will have full receipts showing proof that the load was kept at the proper temperature and other storage requirements for the duration it was in the carrier's possession.
Likewise, with Orbcomm's network, there will be a redundancy in load tracking and monitoring via both cell network and satellite connectivity. If cell goes out, for example, satellite monitoring will be able track the shipment's location and temperature, MacDonald said.
After the vaccine's truckload segment is completed, there's still the challenge of transporting vaccines to their final destination, likely from distribution centers to clinics, hospitals, pharmacies or even grocery stores or big box stores like Walmart and Target, depending on how widespread vaccine distribution becomes.
Ben Wiesen, CEO of transportation management software provider Carrier Logistics, said that LTL carriers and final-mile carriers have become "incredibly nimble" in recent years. Especially this year, he said, as the rise of e-commerce and home-deliveries has refined the two trucking modes. Thus, they're up to the task at hand, Wiesen said, in distributing any COVID-19 vaccine shipments.
And it's not just the vaccines that will need to be delivered, said Wiesen. Alongside those vaccines will need to come the necessary syringes, alcohol swabs, latex gloves and other necessary products to administer vaccine doses.
From distribution centers receiving full truckloads of vaccines, Wiesen said that, like any other type of shipment, the hundreds or thousands of pallets that come in via truckload would need to be divided into the smaller shipments bound for their various locations. "LTL carriers, at their dock, will break down the trucks and build deliveries for each one of the doctor's offices, clinics, hospitals," he said. That might look like "1,000 doses of vaccine, six boxes of gloves, two cartons of alcohol swabs," he said, depending on whatever the order is of the respective end receivers.
This likely will be a fast-moving process, said Wiesen. "Freight comes in over night, and it's worked into the orders and the next day it's on the street being delivered. Velocity is critical," he said. But carriers in the LTL and final-mile space are already used to this entire process — sorting, repacking and delivering time-sensitive, perishable cold freight. That's where software like Wiesen's comes in, he said, to ensure cross-dock scanning of pallets, that vaccines and associated equipment are packaged properly and routed to the right locations.
"It's so important that we get this right," he said. "It's going to be all hands on deck."
One supply chain issue Wiesen envisions is a potential disruption in other time-sensitive cold freight, should a sudden influx of vaccine loads need to be shipped and delivered. "I can easily see a regulation happening that says the vaccine must get moved, and contracts and service commitments for other commodities can be put to the side," he said. That might cause temporary shortages of some goods in some areas, "but it's the morally right thing to do, to get the vaccine where it needs to be," he said.
Orbcomm's MacDonald acknowledged the same. "Truckload reefer carriers are some of the busiest in the country right now," he said. "But with something like this, they would leap to the front of the line to offer support. These groups are organized, and they're ready and willing to jump in," he said.
There's still plenty of unknowns about what the exact requirements will be for carriers hauling vaccine loads, said Troy Wiitanen, vice president of logistics at Leonard's Express, so it's hard to know exactly what the shipments will look like. Nonetheless, he's confident in his network and the broader supply chain to handle any injection of vaccine freight. "From a brokerage perspective, we feel we have the ability to provide the capacity needed," he said.
"That's what the 3PL industry does," said Mike Riccio, chief marketing officer at Leonard's. "Finds the right carrier in the right mode," he said, that fits the requirements needed of the vaccine loads, whatever shape they take.