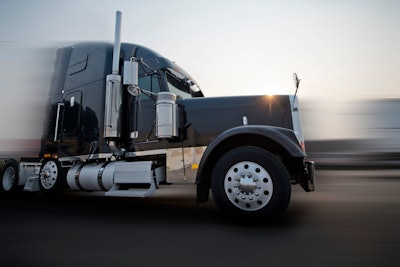 Holidays are always a busy time for motor carriers and logistics companies, but this year has been unprecedented due to the change in American shopping behaviors amid the COVID-19 pandemic.
Almost three-quarters of consumers (73%) say their overall holiday spending will either stay the same or increase this year, and Deloitte forecasts e-commerce sales growth of 25% to 35% compared to last year.
Many fleets have been trying to add capacity ahead of the holiday surge with driver pay increases, yet getting more vehicles on the road has been difficult.
Los Angeles-based carrier TCI Transportation has experienced the demand increase firsthand.
"After April this year, we have seen a steady but strong increase in demand for our services as we are heavily involved with retail, grocery, and e-commerce," said Ryan Flynn, President of TCI Companies, which operates more than 2,000 trucks, tractors and trailers. "Amazon Prime day falling later in the year blended into traditional fourth quarter high demand. We are responding by adding recruiters and safety personnel so we can keep up with adding safe drivers to the team."
According to data analysis by ELD and mobile fleet management supplier Samsara, drivers are running more miles than ever this season, but speeding events have also increased.
Samsara sampled a dataset of 3,676 commercial fleets in food and beverage, transportation and warehousing, and retail sectors with nearly 80,000 vehicles that completed more than 110 million trips.
At a macro level, the data shows 2020 has been busier than 2019 with drivers running about 10% more miles per day compared to 2019, and the number of vehicles on the road increasing by 5%.
Fleets saw a 5% increase in miles driven during the week leading up to Thanksgiving in 2019, followed by a dip the week of the holiday, and then a 6% increase leading up to Christmas. This year, Samsara saw an 5% increase in miles driven the week leading up to Thanksgiving and the trend shows there will be a similar, if not bigger, increase in December as fleets rush to meet the Christmas surge.
Speeding always increases on holidays, according to Samsara, likely because of emptier roads. In 2019 speeding events were 4% higher than average on Thanksgiving day and nearly 15% higher on Christmas day. This year, speeding was 9% higher on Thanksgiving day.
In June, Samsara published a separate data analysis that revealed emptier roads due to COVID-19 resulted in a 20% increase in severe speeding (11 MPH or more over speed limit). Five months later, the trend persisted with 18% more severe speeding on average in September and October of this year compared to the same period last year.