Trucking news and briefs for Monday, Dec. 14, 2020: 
FMCSA looking to drop duplicate reg of requirement for drivers to report traffic violations to carriers
As part of its effort to remove costly, redundant and burdensome regulations, the Federal Motor Carrier Safety Administration is considering eliminating the requirement that interstate truck drivers annually prepare and submit a list of their traffic violation convictions to their employers.
The agency says the requirement is "largely duplicative" of another provision that requires carriers to make an annual inquiry of each driver's motor vehicle record (MVR) from every state in which the driver holds or has held a CDL or permit in the past year.
For drivers licensed by a foreign authority rather than by a state, that provision would be amended to require carriers to make an annual inquiry to each driver's licensing authority where a driver holds or has held a CDL or permit. This change would require carriers to request the MVR equivalent from Canadian and Mexican driver's licensing authorities.
FMCSA says removing this requirement for drivers to provide a list of their traffic violation convictions would reduce the paperwork burden on drivers and carriers without adversely affecting safety.
The American Trucking Associations previously voiced support for the removal of this requirement for drivers in 2017 when the DOT asked the public to identify rules that were good candidates for repeal, replacement, suspension or modification.
The agency is seeking comment on the proposal, which can be made here through Feb. 12.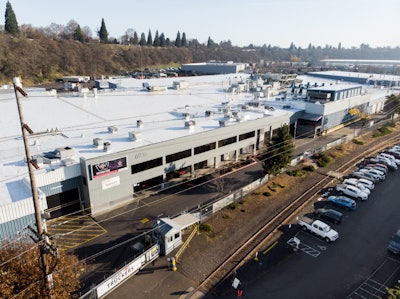 Daimler commits to carbon-neutral truck production by 2025
Daimler Trucks North America announced that its Portland, Oregon, truck manufacturing plant is leading the company's effort for "green" production in the U.S. by achieving carbon-neutral production in 2020 with reduced energy consumption and the offset of on-site emissions. DTNA plans to incorporate carbon-neutral production at all of its remaining truck manufacturing plants by 2025.
The Portland plant will be the first to achieve carbon-neutral production in the global Daimler Trucks network.
DTNA says it is making significant investment in the facility as it prepares for production of the Freightliner eCascadia and Freightliner eM2, the company's first battery-electric medium- and heavy-duty trucks planned for the start of series production in 2022.
"The commitment we have to CO₂-neutral vehicles starts with how they are produced, and we are on the path to achieving carbon neutral production, beginning with our Portland truck plant in 2020," said Roger Nielsen, president and CEO, DTNA. "With our quickly growing portfolio of battery-electric vehicles and our transformative work in hydrogen fuel cell commercial vehicles that will be on the road within the decade, our future and our industry's future is electric."
More than 1,200 Cascadias recalled for clutch issue
Daimler Trucks North America is recalling approximately 1,233 model year 2021 Freightliner Cascadia trucks for a potential issue with the clutch assembly, according to National Highway Traffic Safety Administration documents.
In the affected trucks, the clutch flange may break due to the heat treating and stamping process, which could cause loose parts to fall into the clutch pressure plate assembly, resulting in clutch disengagement.
Daimler will notify owners, and dealers will replace the clutch on affected trucks. Owners can contact DTNA customer service at 1-800-547-0712 with recall number FL-869. NHTSA's recall number is 20V-742.