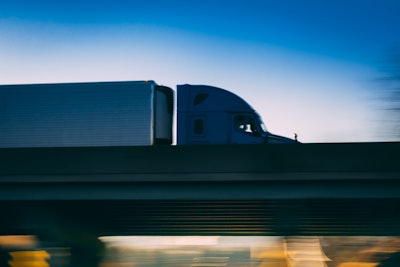 As Americans moved indoors in 2020 and stocked up furnishings for home-offices, replaced and upgraded appliances and spent disposable incomes on e-commerce retail rather than on going out to concerts, restaurants, bars and sporting events, freight demand – and per-mile freight rates – have seen a prolonged surge through the second half of the year.
Lurking in 2021, however, could be shifts in the other direction. Current consumer trends are likely to hold in the first half of the year, but as vaccine distribution becomes more widespread and service and entertainment opportunities become more available, consumers could begin to divert their dollars away from goods and back to services by mid-year, said analysts from FTR last week.
However, they expect growth in overall freight demand to continue, albeit in a more muted level than was seen in late summer and early fall.
"We [forecast] a full recovery in truck loadings taking place in the third quarter of 2021," said Avery Vise, FTR's vice president of trucking. He spoke Thursday in an FTR webinar, the last of its months-long Engage series that detailed ongoing updates to economic and freight conditions since the pandemic. Thursday's webinar centered around the outlook for 2021.
Vise forecasts truck loadings overall to grow by 5% in 2021 compared to 2020, following this year's expected dip of 4% from 2019. Expected growth in 2021 includes a forecasted 6% increase in loadings for dry van, reefer and flatbed loads, with bulk and dump at 5% and tank loadings growing just 3%.
Capacity is expected to remain tight, too, at least for the foreseeable few quarters. That's due to trucking industry employment still being about 50,000 jobs shy of its recent February peak, with carriers struggling to bring drivers back to the market for a myriad of reasons — slowdowns in issuances of new CDLs because of pandemic-caused disruptions at the state level, drivers retiring or moving to other careers and the Drug & Alcohol Clearinghouse weeding out tens of thousands of drivers already, to name a few.
Likewise, on the equipment side, truck and trailer manufacturers are facing their own constraints in keeping up with recent order activity, due to similar issues, with the pandemic slowing build rates and causing issues in recruiting workers, said Don Ake, FTR's vice president of equipment.
Those two forces restraining a build-up in trucking capacity should keep the market tilted in carriers' favor, despite the myriad of potential pitfalls.
Such pitfalls include the lack of a coherent relief and stimulus strategy out of Washington, uncertainty over the presidential transition, the lingering sluggishness in the freight-heavy industrial sector of the economy, lower labor participation rates and high unemployment, and a potential slowdown in retail spending, as much of the goods-heavy demand has been on purchases that households don't buy often, Vise noted, such as appliances and furniture.
Likewise, should the entertainment sector of the economy see a rebound with more widespread vaccine distribution, there will be a pent-up demand for spending there, which means people likely "are going to spend less on goods that require transportation," said Todd Tranausky, FTR's vice president of rail and intermodal.
All these issues combined, said Tranausky, could cause "a real hangover effect in the back half of 2021" for freight demand.
"Risks are rampant right now," said Eric Starks, FTR president and CEO. "This is why we have to continue to assess what the reality is on the ground."
However, despite these potential pitfalls, retail inventories are depleted – another potential positive for freight movement heading into 2021. "It does add to my optimism for next year," said Vise. "Even if sales flatten out, we still have to replenish that inventory. Maybe not at the same velocity, but we're still behind the curve."
"There's going to be pressure through the system," added Tranausky, "even if the economy stumbles, even if there's no stimulus bill, to continue to replenish those inventories for at least a quarter or two."
Regarding Class 8 truck and trailer sales, despite the booming months of late, there's still uncertainty about where order numbers are headed in the first half of next year, said Ake. "Abnormal conditions have led to abnormal order activity," said Ake. "The issue I hear is the second half of 2021. Coming out of this pandemic with everything kind of in chaos, [carriers are] trying to reestablish some balance. We don't know what that balance will look like the second half. If the economy keeps going, and demand is strong and vibrant, these orders are going to be built. They're going to be indicative of a very strong year. If things start to balance, some of these orders are going to be canceled. But again, we look for a good solid first half of the year. It's the second half where the questions come in."
Ake projects 2022 to be a strong year for order activity, and then "a very, very robust 2023."
Lastly, it's still unclear what potential stimulus packages from Congress might look like either near term or longer term – if at all. Another short-term money dump, like the ones this spring, could provide a "sugar high" for the economy, said Tranausky, much like we saw this year. Or Congress might opt for something with longer-term legs, like an infrastructure package. Either scenario could provide pros and cons for freight demand.