Trucking news and briefs for Tuesday, Aug. 17, 2021:
FTR cancels in-person conference
Given the growing concerns around a COVID-19 resurgence, FTR has decided to cancel its 2021 FTR Transportation Conference to ensure the continued health and safety of all those who had planned to be in attendance.
This was to be the 17th annual conference and was originally scheduled for September 13-17 in Indianapolis. Registered attendees are being notified directly by FTR.
"We know the importance this event plays in our clients' ability to make the most informed business decision; however, at this time we determined that we need to prioritize the health and safety of everyone who makes the event so impactful," said FTR CEO Eric Starks. "We'll certainly miss seeing everyone again this year as we look forward to our annual conference to reconnect in person with attendees who have come to feel like part of the FTR family."
FTR plans to unveil in the next few weeks, an enhanced series of FTR's State of Freight and State of Equipment webinars that will include:
FTR's Trucking Outlook, Truck & Trailer Outlook, Rail & Intermodal Outlook, and Rail Equipment Outlook sessions that will provide comprehensive outlooks on all aspects of freight transportation.
10 highlighted sessions from this year's conference agenda with guest speakers who will share their insights on the impact of the pandemic in the industry.
Opportunity to participate in a Q&A with the presenters.
KeepTruckin launches new AI-powered dashcam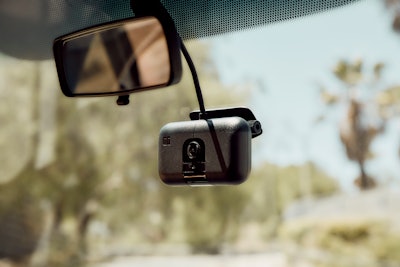 KeepTruckin has launched its new AI Dashcam, powered by an AI processor and advanced computer vision algorithms that instantly detect unsafe driving with unrivaled accuracy and alert drivers in real time.
According to the company, the AI-based detection for driver distraction and close following enables the AI Dashcam to combine multiple key recognition components, such as cell phone use, driver fatigue and seat belt monitoring into the platform.
KeepTruckin's advanced event intelligence technology and in-house safety team automatically analyze each AI Dashcam video within seconds to determine the context and severity of each event. Videos that do not represent actual risk are filtered out, and remaining video footage is prioritized based on risk levels. Upon completing a trip, drivers are automatically coached on correctable behaviors, enabling safety departments to increase efficiency.
The system also creates a risk score for drivers, which KeepTruckin calls a DRIVE score. The proprietary DRIVE risk score provides a holistic view of the performance of a driver and benchmarks every behavior against the KeepTruckin network of over 400,000 connected vehicles. DRIVE automatically pinpoints specific behaviors to coach, while simultaneously identifying safe driving behaviors, so incentivizing top driver performance and driver retention is made easier.
HD Radio receivers available in Freightliner Cascadias starting next year
Xperi Holding Corporation announced that HD Radio technology is expanding into commercial trucks, and receivers will be available on the digital dash display of the Freightliner Cascadia beginning in the first quarter of 2022.
HD Radio technology is a digital broadcast system for AM and FM radio stations. It broadcasts a digital signal over traditional radio frequencies, allowing for up to three additional channels of new audio programming with crystal clear, static-free sound, as well as on-screen information such as: album art, station logos, song and artist info, traffic, weather and critical emergency alerts.
HD Radio technology is currently available from 40+ manufacturers across over 200 vehicle models and is currently in 75+ million vehicles. HD Radio receivers have achieved an estimated 85+ billion listening hours in cars since 2005 and over 95% of all Americans are able to receive an HD Radio signal, with 79% of all radio listening to stations broadcasting via HD Radio technology. HD Radio technology recently marked the 15th anniversary of its first deployment in a passenger vehicle and 10 years in Mexico with 200 HD Radio broadcast channels.