Trucking news and briefs for Wednesday, May 11, 2022:
Diesel prices jumped another 11 cents last week
Diesel fuel prices across the United States jumped another 11.4 cents during the week ending May 9, bringing the national average to another record high at $5.62 per gallon, according to the Department of Energy's Energy Information Administration.
At $5.62, diesel prices are now $2.44 per gallon higher than the same week a year ago.
For the second week in a row, the most sizable increases across the country were seen along the East Coast, where the New England and Central Atlantic regions each saw 23.8-cent increases during the week. The Lower Atlantic region, also part of EIA's East Coast calculation, saw the third-largest jump during the week of 17.9 cents.
The nation's most expensive diesel can be found in California at $6.46 per gallon, followed by New England at $6.34 per gallon.
The cheapest fuel can be found in the Gulf Coast region at $5.34 per gallon, followed by the Midwest region at $5.39.
Prices in other regions, according to EIA, are:
Central Atlantic -- $6.32
Lower Atlantic -- $5.58
Rocky Mountain -- $5.46
West Coast less California -- $5.63
ProMiles' numbers during the week ending May 2 saw fuel prices increase by 28.5 cents, bringing its national average to $5.44 per gallon.
According to ProMiles' Fuel Surcharge Index, the most expensive diesel can be found in California at $6.38 per gallon, and the cheapest can be found in the Gulf Coast region at $5.22 per gallon.
Texas fleet shut down for 'egregious noncompliance'
The Federal Motor Carrier Safety Administration (FMCSA) declared Houston-area based Jaypur Logistics an "imminent hazard" to public safety and ordered the motor carrier May 7 to immediately cease operation.
FMCSA identified Jaypur Logistics for investigation based on the carrier's widespread violations documented by FMCSA and its partners during roadside inspections. According to FMCSA, Jaypur Logistics had almost double the national average vehicle out-of-service rate (40%) and over five times the national average driver out-of-service rate (31.1%).
The FMCSA review of Jaypur Logistics found the motor carrier "egregiously noncompliant with multiple Federal safety regulations, including: Controlled Substances and Alcohol Use and Testing (49 CFR Part 382); Commercial Driver's License Standards (49 CFR Part 383); Driver Qualification (49 CFR Part 391); Unsafe Driving (49 CFR Part 392); Hours of Service of Drivers (49 CFR Part 395); and vehicle Inspection, Repair, and Maintenance (49 CFR Part 396)."
During its investigation, FMCSA charged Jaypur Logistics with "a severe lack of oversight of its operations," noting the carrier could only identify a fraction of the drivers and vehicles operating under its authority and was not even aware its drivers had hauled hazardous materials.
"Jaypur Logistics failed to ensure its drivers were eligible to drive, allowing six drivers who were already prohibited in the FMCSA's Drug and Alcohol Clearinghouse to operate on its behalf," FMCSA wrote.
Jaypur Logistics' drivers have twice been cited for operating under the influence and three times its drivers have been cited for on-duty possession of drugs or alcohol, according to FMCSA. Jaypur Logistics did not have a program to detect and deter the use of controlled substances by its drivers, did not have an effective program to ensure its drivers were qualified and licensed, did not have a program to control its drivers' hours of service, and did not have a program to ensure its vehicles were appropriately inspected and repaired.
FMCSA's imminent hazard out-of-service order states that Jaypur Logistics' "…complete and utterdisregard for the [federal safety regulations] substantially increases the likelihood of serious injury or death for your drivers and the motoring public if your operations are not discontinued immediately."
Recalls announced for Kenworth, Peterbilt, International and Western Star trucks
Three recalls announced recently by the National Highway Traffic Safety Administration affect more than 17,600 Kenworth and Peterbilt trucks, along with small numbers of certain International and Western Star trucks.
Paccar issued a recall of approximately 17,641 trucks equipped with Dana D-Series axles. In the affected trucks, the axle steer arm fasteners that attach the steering arm to the steering knuckle could fail. The recall includes certain 2018-2020 Kenworth T270, T370, T440, T470, T660, T680, T880, T800, W900, W990; and 2018-2020 Peterbilt 330, 337, 348, 365, 367, 389, 520, 567, and 579 vehicles.
The remedy to fix the issue is still being developed. Owners can contact Kenworth customer service at 1-425-828-5888 with recall number 22 KWB and Peterbilt customer service at 1-940-591-4220 with recall number 22 PBB. NHTSA's recall number is 22V-277.
Another recall affects approximately 45 model year 2022-2023 International HV and MV trucks, along with 2022 IC Bus RE models, built without a forward radar unit. The recall states that the warning label notifying the driver that the collision mitigation system is inoperative may be missing.
Navistar will provide a warning label and installation instructions, free of charge. Owners can contact Navistar customer service at 1-800-448-7825 with recall number 22508. NHTSA's recall number is 22V-282.
Daimler Trucks North America also issued a recall affecting approximately 15 model year 2023 Western Star 47X and 49X trucks in which the caliper mounting bolts may loosen and detach, which can reduce brake performance.
Dealers will inspect and tighten the caliper mounting bolts, as necessary, free of charge. Owners can contact DTNA customer service at 1-800-547-0712 with recall number FL-930. NHTSA's recall number is 22V-299.
Large fleet adds 60 electric Volvo tractors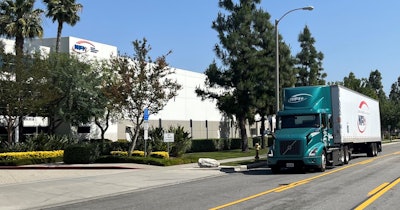 NFI (CCJ Top 250, No. 21) is increasing its investment in electromobility solutions with its latest order of 60 Volvo VNR Electric trucks.
The battery-electric trucks will be deployed in NFI's Ontario, California, fleet throughout 2022 and 2023, in support of its goal of operating the first 100% zero-emission freight logistics fleet in the nation.
"Volvo Trucks is proud to continue partnering with NFI on its electromobility journey as the company truly demonstrates its leadership and commitment to supply chain sustainability," said Peter Voorhoeve, president, Volvo Trucks North America. "NFI's order of 60 Volvo VNR Electrics is a testament to the positive results fleets are experiencing with Volvo Trucks' electromobility solution, and a signal to the market that local and regional freight transport can be reliably accomplished with zero-tailpipe emissions."
NFI started its electromobility journey with Volvo Trucks as part of the Volvo LIGHTS (Low Impact Green Heavy Transport Solutions) project that began in 2019. NFI started piloting two Volvo VNR Electric trucks in its commercial operations, demonstrating the ability for battery-electric trucks to reliably transport goods under a variety of operating conditions.
"Our experience with the Volvo LIGHTS project was a major factor in NFI's decision to purchase VNR Electric trucks for our drayage operations," said Bill Bliem, senior vice president of fleet services at NFI. "NFI started our electrification transition because we are committed to sustainability initiatives across our operations, and we are continuing to invest in Volvo Trucks because of the proven viability and success we have had operating the Volvo VNR Electrics in our real-world routes."
The 60 trucks ordered by NFI are the next generation enhanced Volvo VNR Electric model with a six-battery-pack configuration, which provides an operational range of up to 275 miles. The enhanced Volvo VNR Electric, which began production in Q2 2022, also reduces the required charging time, as the state-of-the-art 250kW charging capability provides an 80% charge in 90 minutes.