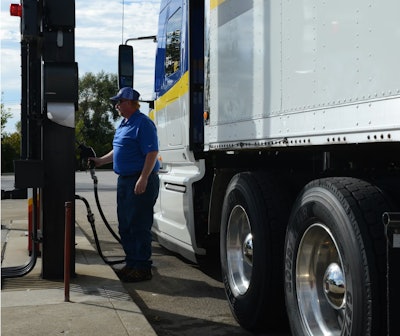 The historic swing in diesel prices over the course of Q2 of 2022 may have put thousands of smaller motor carriers out of business, but it proved extremely vindicating for the big fleet model of business as many of the country's biggest fleets saw their fuel surcharge revenue double year over year.
Fleets, in their quarterly earnings reports, often ignore fuel surcharges and prefer to report most revenue figures "net of" surcharges as they're not entirely within the fleet's control. Fuel prices go up and down, and that has nothing to do with fleet operations.
But amid unprecedented volatility, wild inflation and record fleet profits, the often-neglected line item takes on new importance. Even as rates fell on the spot market, rates including fuel surcharges remained mostly flat as diesel prices became a driver of freight costs.
Trucking costs to-date this year have been elevated, but by comparison, the cost of trucking in 2021 increased to its highest level in the 15-year history of the American Transportation Research Institute's annual Operational Costs of Trucking research – $1.855 per mile. Fuel saw the single largest jump in expense, a 35.4% increase to 41.7 cents per mile.
[Related: Top fleets' Q2 earnings set records despite headwinds]
For J.B. Hunt, the difference in fuel prices between this year and last meant an extra $376 million in revenue, as the company raked in $677 million in fuel surcharges in Q2 of 2022 versus $301 million in Q2 of 2021. J.B. Hunt's spending on fuel and fuel taxes in the second quarter of last year sat at just 4.4% of revenue with $126 million spent, but in the second quarter of 2022, that jumped to 6.9% at $265 million.
While it's not absolutely an apples to apples comparison, this quick look at the numbers suggests that J.B. Hunt managed to turn an extra $140 or so million in fuel spending into an extra $376 million in revenue.
And, J.B. Hunt hardly stands alone in that regard.
Knight-Swift brought in almost $270 million in fuel surcharges in Q2 of 2022, versus just about $103 million during the same period last year. Schneider's went from $110 million to $249 million in the same period. Werner's $57 million became $118 million.
Yellow reported a second quarter 2022 LTL revenue per hundredweight increase of 29.7% and a LTL revenue per shipment increase of 27.8% compared to the same period in 2021. However, take away the fuel surcharges and those numbers drop to 15.3% and 13.7%.
Fleets have a definite advantage with locking in contract rates and fuel surcharges, and the volatility in Q2 may have worked out to their favor. But this time last year, diesel was around $3.35 a gallon on average. Today, that average just finally fell back below $5 after peaking to nearly $5.80 in June, right at the end of Q2.
Though many fleets are insulated from volatility to a degree by bulk-buying and storing fuel – and large fleets often buy on bulk wholesale contracts – these stores run out eventually, and some fleets may have had to buy at higher prices, even as prices tumble down just as rapidly as they rose. If there will be a hangover from the fuel surcharge sugar high, that will remain to be seen in Q3 and beyond.
For now, most public fleets appear to be boosting their yearly outlooks, shrugging off "softening" in rates and sitting on piles of cash as new trucks remain in short supply.