Trucking news and briefs for Wednesday, Aug. 10, 2022:
Diesel's national average falls below $5
The national average for a gallon of on-highway diesel is below $5 for the first time since early March, according to the latest weekly update from the Department of Energy's Energy Information Administration.
During the week ending Aug. 8, diesel prices across the U.S. fell by an average of 14.5 cents to a national average of $4.99 per gallon. The last time the national average was below $5 was the week ending March 7, when the national average was $4.85 per gallon.
The bottom has fallen out with diesel prices since late June, as they have fallen 81.7 cents over the last seven weeks from diesel's peak of $5.81 during the week ending June 20.
Prices during the most recent week fell in all regions, with the most significant decrease being seen in the West Coast less California region, where prices fell by 17.5 cents, followed by California, which saw a 16.9-cent decrease.
The nation's most expensive diesel is still in California at $6.10 per gallon, followed by the Central Atlantic region at $5.38 per gallon.
The cheapest fuel can be found in the Gulf Coast region at $4.68 per gallon, followed by the Lower Atlantic region at $4.87 per gallon.
Prices in other regions, according to EIA, are:
New England -- $5.35
Midwest -- $4.96
Rocky Mountain -- $5.04
West Coast less California -- $5.22
ProMiles' numbers during the same week saw fuel prices fall by 8 cents, bringing its national average to $5.13 per gallon.
According to ProMiles' Fuel Surcharge Index, the most expensive diesel can be found in California at $6.35 per gallon, and the cheapest can be found in the Gulf Coast region at $4.76 per gallon.
FedEx opens new facility in Phoenix
FedEx Freight announced this week the opening of a new, 218-door facility in Phoenix, Arizona, earlier this summer.
"The continued growth in the Phoenix market coupled with our expanded footprint with additional doors provides us the much-needed capacity to meet the growing demand," said Scott Doleman, regional vice president.
The company said the facility is perfectly positioned to take on the growing Phoenix market, and also brought FedEx Freight's door count to almost 26,000 this year.
"We're talking about more than adding buildings or square footage," said Lance Moll, FedEx Freight President and CEO. "This is about strategically planning capacity increases to better serve our customers in growing markets."
FedEx Freight regularly evaluates opportunities to invest in capacity growth through door and yard expansions and fleet maintenance shop footprints. Additional focuses include continually evaluating the network based on changing market conditions and maximizing the use of existing assets, such as collaboration within the FedEx enterprise network to reduce empty miles and provide peak support.
SEKO Logistics acquires 3PL Pixior
SEKO Logistics has acquired Commerce, California-based 3PL Pixior for an undisclosed sum.
The acquisition of Pixior and its seven locations along the West Coast and one in Connecticut brings in-house to SEKO ecommerce capabilities in the West Coast market, including high-touch value-added fulfillment services that provide a customized brand experience to client customers. It also nearly doubles SEKO's fulfillment and warehouse space in the U.S. and triples SEKO's existing West Coast space capacity. In addition, SEKO adds Pixior's drayage business to increase the speed and efficiency of its port discharge services.
"With the acquisition of Pixior, we crystallize our industry leadership in end-to-end logistics solutions and take a significant leap forward in our fulfillment capabilities in the U.S.," said James Gagne, CEO of SEKO Logistics. "We are operating on a strong growth trajectory and looking for opportunities that allow the company to continue to move at the speed of commerce from anywhere in the world."
SEKO's global presence will also expand Pixior's existing offerings, providing clients of the company access to technology and compliance led value-added freight forwarding capabilities, especially for Asia-U.S. trade lanes; in-country fulfillment capabilities in key European and Asia Pacific markets to support international expansion strategies; and personalized last mile ecommerce transportation services.
Following the sale, Yassine Amallal will remain CEO of the business unit, which will be renamed SEKO Ecommerce Fulfillment.
Two electric Thermo King reefer units now eligible for California voucher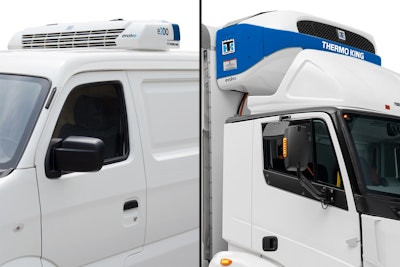 Thermo King announced this week that customers in California who purchase the all-electric e200 or e1000 transport refrigeration units (TRUs) for their trucks will be eligible to receive point-of-sale discounts through the California Air Resources Board's (CARB) Clean Off-Road Equipment Voucher Incentive Project (CORE).
The Thermo King e200 and e1000 TRU models are part of the company's all-electric portfolio, branded evolve, which includes electric refrigeration offerings for truck, trailer, rail, air, and marine transport in North America, Latin America, and Europe, the Middle East, and Africa (EMEA) regions.
"Our electrified portfolio has expanded significantly, and by 2023 Thermo King will have a low or zero-emission solution in every segment of cold chain transportation," said Chris Tanaka, vice president of product management for Thermo King Americas. "Today's announcement is one of the ways we are accelerating solutions for customers, particularly in California, who need immediate solutions and help to reach their zero-emission targets."
CORE is a $125 million project, which is funded by California Climate Investments and intended to encourage California off-road equipment users to purchase or lease currently commercialized zero-emission off-road equipment. This voucher incentive project helps offset the higher cost of zero-emission technology with a point-of-sale discount.
This incentive project helps customers finance their switch to zero-emission tech by Dec. 31, 2029, as required by CARB. CARB states that owners are required to turn over at least 15% of their truck TRU fleet operating in California to zero-emission technology each year beginning in 2023.