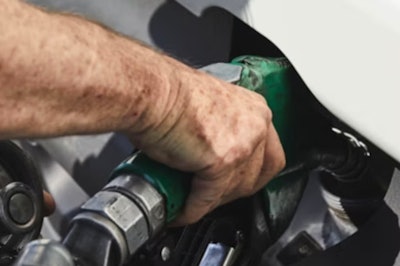 It ain't over 'till its over.
Diesel and gasoline prices could continue to rise and reach their highest peak yet this year as various factors including punishing summer heat drive up costs at the pump.
The U.S. Energy Information Administration reported Monday that the national average price for diesel jumped .22 cents per gallon from a week prior to $4.12 cents per gallon.
California had the highest price in the continental U.S. at $5.15 per gallon while Gulf Coast states showed the lowest price on average at $3.83 per gallon.
The national average for regular gasoline came in at $3.75, a 16 cent per gallon hike from last week.
Lower petroleum supply levels are largely to blame for the price hikes. GasBuddy's head of petroleum analysis, Patrick De Haan, pointed to a drop in overseas oil imports while oil output at the U.S. Strategic Petroleum Reserve (SPR) came to a halt. All this while summer's hotter temperatures slowed refinery production.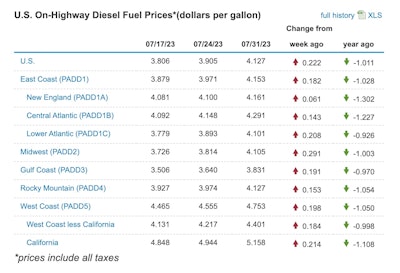 "Gas prices suddenly soared over the last week due to heat-related refinery outages that impacted some of the largest refineries in the country, at a time when summer gasoline demand peaks and as gasoline inventories slid to their lowest July level since 2015," De Haan said. "In addition, oil prices surged to their highest level in months, rising to over $80 per barrel due to SPR releases coming to an end and concerns over cuts in supply from Saudi Arabia and Russia, the second and third largest oil producers in the world."
Tom Kloza, global head of energy analysis at Oil Price Information Service, pointed to an ongoing rise in crude oil prices and added that refineries can struggle to run at high rates of production when ambient air temperatures are 100 degrees F or higher.
"Crude oil prices are up by about $11/bbl since July 3 and that adds about 27cts/gal to the raw cost of manufacturing diesel," Kloza said. "We haven't really been able to build inventories of diesel in the off-season so there is substantial tinder for a preseason rally. As of this morning most diesel prices around the country are up by about 65cts gal in the last 30 days."
De Haan said hurricane season which ends Nov. 30 could still prove to be a factor and further hinder fuel production.
"Motorists have seen average gasoline and diesel prices rise at the fastest pace in over a year, but the rise seen in the last week should now start slowing," he said. "However, as we get ever closer to the peak of hurricane season, any new issues could easily push the national average [of gasoline] over $4 per gallon for the first time in 2023. Drivers may want to brace for potentially higher prices yet."
Kloza said higher prices at the pump may hang around for some time to come.
"I think we are caught in a chapter of energy inflation that may persist for a while," he said. "We've probably seen the largest increases at wholesale that we'll see until the winter is upon us, but retail prices and commercial prices have a lot of catching up to do. Diesel prices will be cheaper than last year in the back half of this year, but they will be expensive by the standards of most years but 2022."