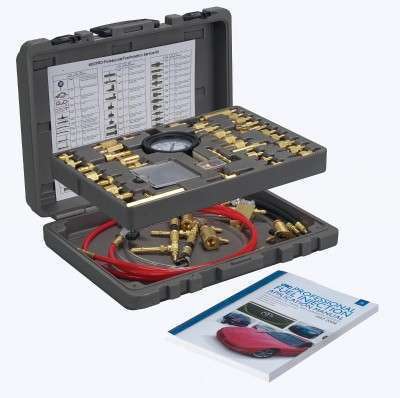 OTC, an SPX brand, has compiled the Professional Master Fuel Injection Kit (P/N 6550PRO), a full-coverage tool set that was developed to accommodate nearly every fuel injection system application on most domestic and foreign engine platforms from 1988 to present. Components include 47 OTC fuel injection adapters, a 0-100 psi analog pressure gauge with manifold for accurate pressure reading and basic flow testing, hose assemblies and a variety of seals, fuel line and clamps. Quick connect adapters use Schrader valves designed to prevent fuel/solvent spray, and every seal used is made of Viton rubber, which resists swelling or cracking, even when exposed to ethanol blend fuels.
The kit includes an application guide designed to give technicians the convenience of having required service information at their fingertips, and also comes with a laminated card showing color images of components, with part numbers for quick reference. A blow-molded case with a removable lid allows for convenient storage and easy access to components, yet closes tightly for safe transport of the kit. The lid can be separated easily if the technician prefers storing the trays in a tool drawer.
For more information, go to www.otctools.com.