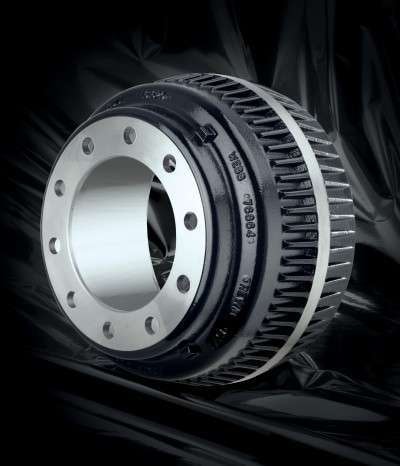 With the federal government's 2011 stopping distance mandates going into effect next year, Webb Wheel has expanded its Vortex line of heavy-duty brake drums, adding three new models that will be available through Webb's national dealer network in March.
Like pervious Vortex drums, the expanded product line will be lighter than conventional brake drums, while manufactured from the same, reliable and durable gray iron material. According to Ken Kelley, vice president of Webb's aftermarket business unit, the new Vortex drums also will run cooler than conventional drum designs, thanks to Webb's patented design with superior heat dissipation characteristics, reduced wall thickness, centerline squealer band and external ribs. All of these features, Kelley says, help maximize Vortex liner life and reduce lifecycle costs for fleets.
Webb's new Vortex brake drums include a 15-by-4 drum weighing 65 pounds, a 16.5-by-5 drum that weighs 79 pounds, and a 113-pound 16.5-by-8.625 model.