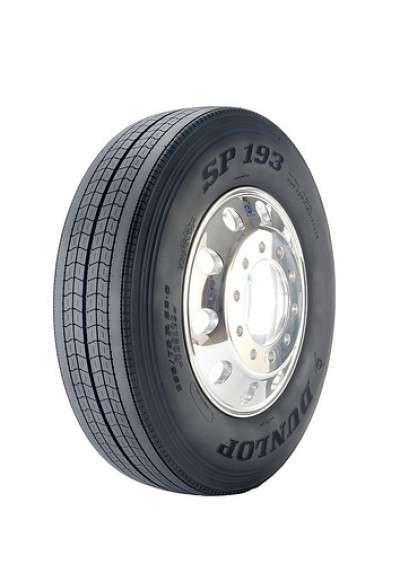 Dunlop has announced a new line of fuel-efficient, long-haul tires that qualify as U.S. Environmental Protection Agency SmartWay-verified technology. The FM tires featuring new fuel-efficient compounding include the SP 384 FM steer tire, SP 456 FM drive tire and SP 193 FM trailer tire in standard (11R22.5) and low-profile (295/75R22.5 and 285/75R24.5) sizes. The Dunlop casings support Goodyear Fuel Max retreads to further reduce lifecycle costs.
Special compounding and an enhanced manufacturing process help make the SP 384 FM Steer Tire roll with less resistance. The five-rib design features a barrel footprint to help optimize treadwear performance. Utilizing the company's "evolving tread" technology, as the original tread wears, jagged/angled groove walls across the footprint are exposed to help maximize traction and handling. To help reduce irregular wear, a pressure distribution groove, located on the outer edge of the shoulder rib, reduces pressure buildup. When cornering, the reduced pressure helps improve shoulder wear, while lateral sipes and slots on the three main ribs help provide added traction and handling. The casing features a 4-belt package that offers high-tensile steel on the three lower belts. The top belt is made with polyamide, protecting the steel belt package from moisture.
The base for the SP 456 FM Drive Tire is an all-steel four-belt package, which features optimized belt angles to reduce pressure on the tread while strengthening the casing for low rolling resistance. Its 26/32-inch tread depth features large, stable tread blocks, which help reduce squirm for enhanced fuel economy while promoting even wear. Two circumferential and extended lateral grooves, coupled with a nonevolving tread design, provide added traction. A closed shoulder design further helps with even tread wear.
The SP 193 FM Trailer Tire has a 12/32-inch tread depth for high mileage, and to help reduce rolling resistance, the SP 193 uses cool-running triple-compound construction, which reduces the amount of energy absorbed by the tread. The casing features an all-steel four-belt package to help provide a solid foundation for multiple retreads. A solid shoulder rib and a pressure distribution groove help minimize shoulder wear, while two circumferential grooves and lateral grooves provide all-season performance.
For more information, go to www.dunloptires.com/truck.