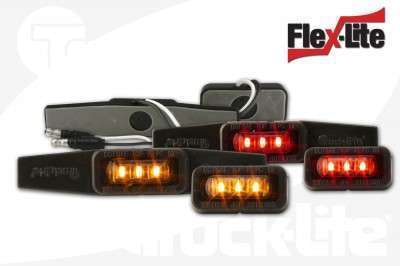 Truck-Lite's Flex-Lite line of LED lighting products is designed to allow for flexible mounting without the need for additional accessories and with versatile wire options. The line features two robust thermoplastic housing designs, both allowing for a flexible mounting surface to be molded directly around the lens.
The design of the "winged" version allows for a wide array of mounting options and is suited for the corner radius on trailer and body applications. The "non-winged" version is suited for the aftermarket because of its versatility to immediately replace failed lamps without tools or additional parts and its ability to cover holes left behind from initial installation.
The lamps are affixed to the surface with a heavy-duty peel-and-stick adhesive that's designed to hold up to weather, impact and heat entrapment while maintaining a strong hold; the backing has been tested against pressure washing and other elements. Available with both a rear-exit and side-exit wiring housing style, the lamps allow for both installation without a wiring feed hole – for installation against any flat surface – and a clean installation with power and ground wires feeding into the vehicle or trailer body.
The small low-profile design has less than a ½-inch protrusion from the vehicle, making it a suitable option along narrow mounting rails, above loading doors or wherever space is at a premium.