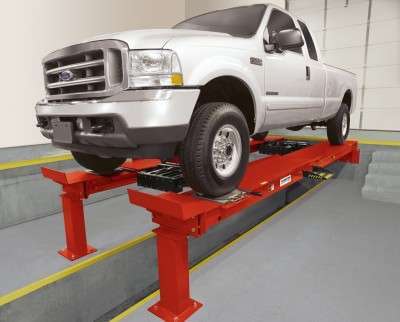 Hunter's P441 and P444 pit racks for high-volume shops are designed to provide a comfortable work height and plenty of space around and under the vehicle to help make service fast and easy. The drive-on rack design saves time over raising and lowering a lift and makes either model a suitable alternative for shops with low ceiling height. Both the P441 and P444 feature an 18,000-pound capacity and 22.5-inch runway width to handle a wide range of vehicles.
The P441 provides maximum wheelbase limits of 177 inches (two-wheel alignment) and 158 inches (four-wheel alignment). The longer P444 provides maximum wheelbase limits of 211 inches (two-wheel alignment) and 158 inches (four-wheel alignment). Each model is available with 36-inch, 30-inch or 24-inch pedestals, depending on desired pit depth. An optional center pit also is available.
The P441 and P444 further improve service efficiency with optional time-saving features. Select models include Hunter's proprietary Fully Integrated Alignment (FIA) console, PowerSlide system and Inflation Station feature. The FIA console is designed to allow Hunter's WinAlign aligners to communicate directly to the rack to operate the PowerSlide system automatically and to set tire pressure limits for Inflation Station. PowerSlide is designed to lock and unlock turnplates and slipplates automatically as needed during an alignment, eliminating multiple trips around the vehicle and the hassle of removing and replacing lock pins. Inflation Station is designed to set tire pressure automatically for each wheel simultaneously with air hose reels integrated into the rack runways at each wheel position; the tire pressure can be preset at the rack console or the aligner.