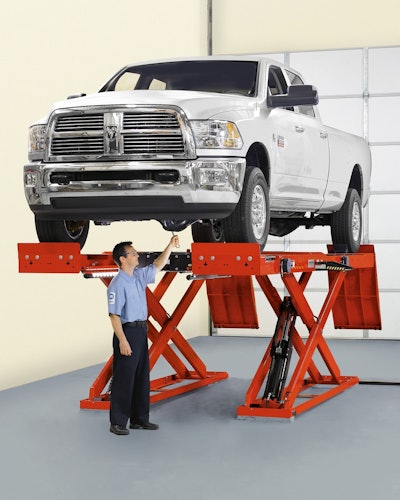 The Hunter RX10 scissor lift features a 10,000-pound lifting capacity and a choice of runway lengths to accommodate vehicles ranging from passenger cars to crew cab pickup trucks. The scissor design requires minimum bay space and can save further space with a shallow-pit installation that sets the runways flush to the floor when fully lowered, eliminating the need for long approach ramps. Surface-mounted models provide a lowered height of 8.75 inches, providing clearance for vehicles with low ride height or low-hanging spoilers.
The optional PowerSlide system is designed to control turnplate and slipplate operation automatically, and the optional Inflation Station feature helps make alignments more accurate by automatically setting a predetermined tire pressure for each wheel simultaneously. The extra-wide 24-inch runways with louvered ramps help make positioning the vehicle on the lift rack easier, while the open access at the front and rear create an unrestricted workspace underneath the vehicle.
Optional 6,000-pound-capacity swing air jacks add the capability of lifting vehicles off the runways during alignment procedures and other service operations. A powder-coat finish adds aesthetics and durability to help resist damage that might occur in a shop environment. The RX10 also offers an integrated airline kit for tools and an optional runway lighting kit to illuminate the workspace under the vehicle.