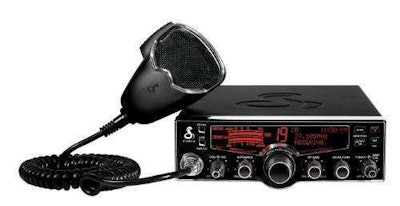 Cobra Electronics' 29 LX Citizens' Band radio, based on the 29 LX LE 50th Anniversary Limited Edition model, features a modern aesthetic design with a selectable LCD color display in red, green, blue or amber to complement the interior of any cab. The display also has customizable night and day settings to enhance readability in both bright and dark conditions, as well as a clock/timer that enables drivers to track their on-time driving hours; the clock/timer also functions as an alarm clock.
The 29 LX includes 4W AM RF power output along with instant access to emergency channel 9 and information channel 19. The Delta Tune feature helps clarify incoming signals, while the adjustable Dynamike boost increases the microphone's sensitivity for increased voice clarity. Other features include:
• A large center scroll knob that provides one-touch programming of the unit for easy setup and channel changes;
• A weather alert scan that automatically advances to the next clear NOAA weather channel when driving cross-country; and
• A Radio Check Diagnostic to allow drivers to continuously monitor their radio's RF power output, antenna system and battery voltage.