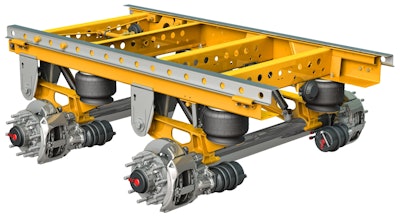 SAF-Holland has updated and expanded the application coverage for its CBX Series Suspension System for trailers.
The company's proprietary Fusion Beam Technology – which helps facilitate lower trailing arm beam weight without compromising structural integrity by combining two suspension technologies – is being integrated into the CBX40, CBX23, CBX25 and CBX25/30. The technology involves the fusion of a fabricated tailpiece to the back of the suspension's cast steel beam to create a component that can be configured to meet a wider range of dimension requirements.
The optimized SAF X-Series 5¾-inch round axle also offers suspension configuration options.