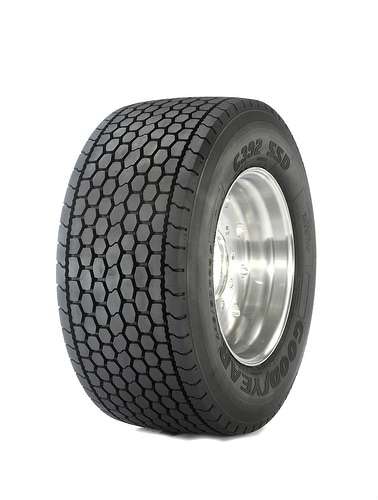 Goodyear's G392 SSD drive and G394 SST trailer wide-base tires for long-haul and regional-haul applications both feature Fuel Max Technology and offer flat protection thanks to the company's DuraSeal Technology, a gel-like inner liner designed to instantly seal punctures of up to ¼-inch in the tread's repairable area. DuraSeal does not seal sidewall punctures.
The G392 SSD and G394 SST are U.S. Environmental Protection Agency SmartWay-verified to deliver fuel economy improvements of up to 5 percent, and the combination of the G392 and G394 can save more than 1,100 pounds over a dual assembly. In the fourth quarter, Goodyear will offer matching retreads for both tires.
The G392 SSD's nine-rib design, with eight wide circumferential grooves, helps provide all-season traction in dry, wet and snowy conditions. Combined with its deep 25/32-inch tread depth for longer initial tire life, the tread also features a design that, coupled with a casing construction that helps restrict casing expansion, helps alleviate irregular wear and allows for retreading. The G392 SSD is available in load range "L" in a 445/50R22.5 size.
The G394 SST features a five-rib design with minimal blades and has tread compounding for added miles to removal. Its 12/32-inch tread depth and optimized tread and mold design provide a more uniform footprint to help resist irregular wear while providing a quieter ride. The tire's robust shoulder design and casing construction help it resist curbing damage. The G394 SST is available in load range "L" in a 445/50R22.5 size.