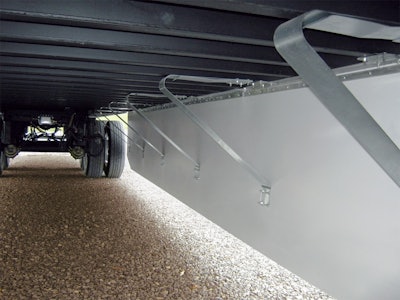 Utility Trailer Manufacturing Co.'s USS-120A aerodynamic side skirt is verified by the U.S. Environmental Protection Agency as "Advanced" and can be used with low-rolling-resistance tires on dry vans to achieve California Air Resources Board compliance.
Similar to the company's previous side skirt designs, the more durable, lighter USS-120A also features patent-pending galvanized high-tensile steel braces designed to allow the side skirt to flex both inward and outward.
A cover over Utility's 5-hole pattern design on the wingplate is engineered to increase the length of the side skirt by up to 2 feet, which helps boost aeodynamic efficiency, while the skirt's rear edge at the support leg assembly is connected by a slip joint to help reduce impact damage.