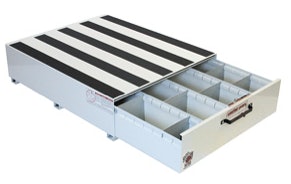 Knaack and Weather Guard's Pack Rat Drawer Units for truck and vans are made from 14-gauge steel and are designed for easy access to tools and supplies while leaving floor space open for hauling materials or moving in and out of the vehicle. The drawer units are designed for easy installation, and multiple drawers and dividers provide multiple setups to meet the needs of specific professions.
Anti-skid strips on top of the drawer assembly offer traction for wet and muddy boots. Smooth rolling drawers allow easy operation and can carry up to 425 pounds of equipment. Full-weather stripping protects against the elements, and the drawers are removable for cleaning.
The drawer units come in 1-, 2-, 3- and 4-drawer units with both wide and narrow drawer compartments and feature a one-touch push-button latch assembly for one-handed operation. Size options include 9- or 12½-inch heights, 24- or 48-inch lengths and 10¼- to 39¾-inch widths.