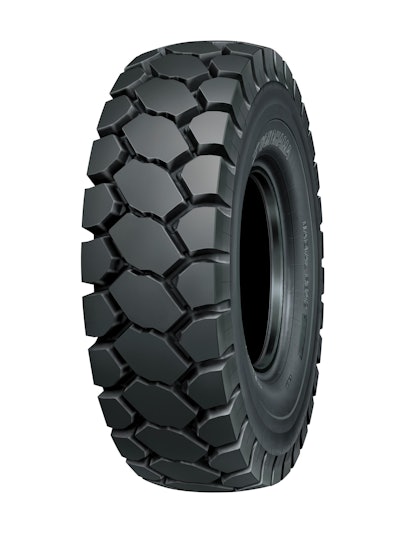 Yokohama Tire Corp.'s latest off-the-road radial tires include the RL45, RB42 and RL51:
• Features of the RB42 – designed for dump trucks and soft and/or loose surfaces such as mud, sand, gravel and rocks – include an extra-deep tread for improved traction and tread life; large center blocks that help increase resistance to cuts and improve overall wear; and a zigzag groove pattern to facilitate better traction. Available sizes include 18.00R33, 24.00R35, 27.00R49 (with cut-protected compound) and 27.00R49 (with regular compound).
• The deep tread of the RL45 – made for articulated dump trucks, loaders and underground vehicles – is designed to offer longer wear while adding stability, and the nondirectional block pattern helps resist abrasions and cuts. The tire – designed for added traction, side-cut protection and improved ride comfort – is available in sizes 26.5R25 E2 and 26.5R25 L1.
• The RL51 grader tire – available in size 23.5R25 – is suited for mining and construction and is designed for side-cut protection, added traction and a longer tread life.