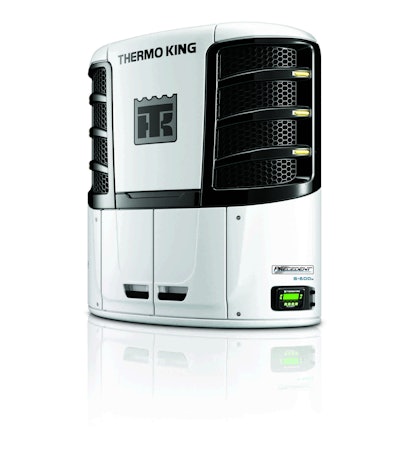 Thermo King says it is introducing its most environmentally sensitive diesel trailer temperature control system for multi-temperature operations to meet changing industry regulations and help food distribution customers achieve sustainability objectives and reduce high fuel costs.
The company says its S-600M features a completely new diesel direct electric (DDE) architecture that drives optimum efficiencies and helps lower the overall cost of ownership for food distributors.
Thermo King collaborated with PSA Peugeot Citroën, one of the world's largest diesel engine manufacturers, to develop a diesel engine for the S-600M that meets the most stringent requirements of the Environmental Protection Agency's (EPA) Tier IV Final regulations. The engine features emission technologies that exclude the use of a diesel particulate filter in meeting the requirements of the EPA regulations.
According to Thermo King, the S-600M is designed to meet both EPA and California Air Resources Board requirements in the greater-than-25 horsepower category, which include a reduction of 90 percent in particulate matter and a 30 percent reduction in nitrogen oxide from the interim standards that have been in effect since 2008.
"We designed the Precedent S-600M to offer standard, rather than optional, sustainability improvements especially for the multi-temperature needs of the food distribution and grocery industries in response to customer requests for a solution that reflects their commitment to environmental stewardship," said Tom Kampf, trailer product manager for Thermo King.
"This solution matches the duty cycle and application with the right engine design to provide double-digit fuel efficiency while exceeding the most stringent engine emissions requirements, providing significant reductions in nitrogen oxide, particulate matter and carbon dioxide."
The Precedent platform with DDE architecture offers multi-temperature customers flexibility in unit configuration. Customers can now order all Precedent multi-temperature models with Thermo King Smart Power, which allows the units to be operated off electrical power in stationary applications.
Smart Power will be available in both standard and high output versions. Thermo King also offers a Smart Power Prep Kit to meet the needs of customers who are considering shore power operation at their distribution centers, but have not yet invested in the infrastructure to support shore power operation.
The Smart Power Prep Kit enables customers to upgrade a Precedent unit to shore power operation in the field post-purchase.
The DDE engine architecture features the proven Thermo King X-430 compressor, which is directly coupled to the diesel engine. A small generator supplies power to the condenser and evaporator assemblies.
Thermo King will offer the Precedent S-600M beginning third quarter 2013. The existing multi-temperature Spectrum series of solutions will also be available for customers who wish to slowly transition into the new platform.
The S-600M represents the latest addition to the Precedent trailer platform introduced earlier this year by Thermo King. The Precedent platform is built from the ground up to deliver double-digit fuel savings, best-in-class performance and lower life cycle costs, while providing regulatory compliance and peace of mind for trailer owners and operators.
The Precedent S-600M is supported by a network for more than 200 factory trained and tested Precedent-certified Thermo King dealers, who are factory trained and tested, throughout North America.
Thermo King will be unveiling the S-600M at booth #215 at the Distribution Solutions conference.