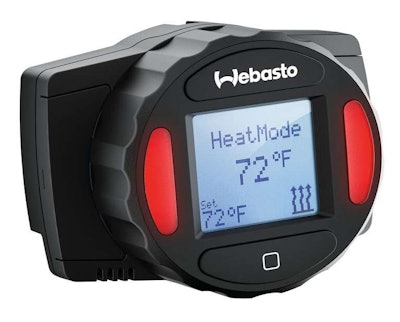 Webasto's SmarTemp digital bunk thermostat is designed to work with the company's Air Top 2000 ST bunk heater to deliver precise temperature control while saving fuel, lowering emissions, ensuring compliance and reducing maintenance costs.
The compact easy-to-use all-in-one system is designed to allow drivers to dial-in the temperature they want; a large easy-to-read backlit LCD screen displays the ambient bunk space temperature as well as the corresponding set temperature.
The user can toggle between menu options with the push of a button; menu preferences allow a user to select the heat or ventilation mode, one of three languages and Fahrenheit or Celsius temperature scales.
For more information, go to www.webasto.us.