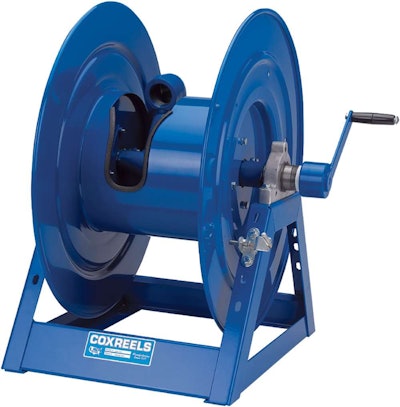 Coxreels' large-capacity 1185 Series high-pressure hose reels, including 1½-inch ID models, now have an upgraded swivel to strengthen the reel capacity to up to 3,000 psi. The 1185 models followed by the suffix "-Buxx" have an external fluid path with an electroless nickel-plated steel 90-degree full-flow NPT swivel inlet and chemical-resistant seals for high-pressure applications.
The reels are available with a solid-steel direct-hand crank or chain-and-sprocket retraction. The series has a one-piece all-welded "A"-frame base for added stability, a low-profile outlet riser and an open drum slot design to provide a noncrimping, flat, smooth hose wrap.
For more information, go to www.coxreels.com.