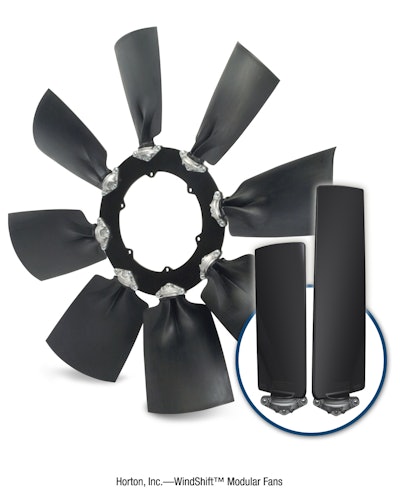 Horton's expanded WindShift product line now offers more fan configurations, including a wider selection of computer-optimized blades. The WSC and WSD blades are designed to provide maximum efficiency in low-restriction airflow applications such as HVAC, ventilation, stationary power generators, auxiliary coolers and others.
Engineered to fit in a narrow compact space, the blades are designed to have less deflection to facilitate increased durability and are constructed with clamshell knuckles that clamp each blade to a 0.25-inch steel center disk, allowing them to be set to a specific pitch angle to help increase airflow.
The fans are offered in diameters from 18 to 60 inches with three to 16 blades, equally spaced or staggered to help modulate system noise. In addition to flat-plate center disc mounting, straight- and tapered-bore adapters are available.
For more information, go to www.hortonww.com.