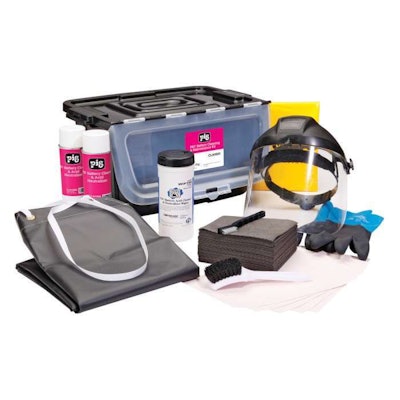 New Pig's Battery Cleaning & Maintenance Kit includes items to help clean up battery acid spills and remove corrosion from terminals.
The kit includes a full face shield and an apron to help minimize the risk of acid burns and shock during maintenance, while acid-neutralizing mats, wipes and sprays all feature color-change indicators to help determine when neutralization is complete for safer handling; temporary disposal bags also are included.
The kit features a see-through front door for quick inventory checks, and its acid-resistant polypropylene container also can be used as a diagnostic tool for pinpointing leaks.
New Pig also offers its Collapse-A-Tainer Fail-Safe Containment System that features end walls that can remain folded down during normal use and will rise automatically and float with the liquid level if a leak or spill occurs. For more information, go to www.newpig.com.