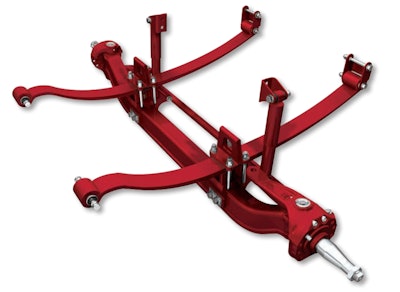 Hendrickson Truck Commercial Vehicle Systems announced Thursday at the Mid-America Trucking Show Thursday the introduction of its SOFTEK NXT, a light-weight front steer axle with mono-leaf spring suspension.
SOFTEK NXT provides a light-weight front steer axle and suspension system which combines the company's STEERTEK NXT axle with its SOFTRIDE Monoleaf Spring Technology. This complete system saves up to 118 pounds compared to traditional two-leaf spring and I-beam axle systems, Hendrickson says. The SOFTEK NXT system is designed for heavy-duty truck applications rated from 12,000 to 12,500 pound capacities with additional axle ratings available soon.
According to David McCleave, Director of Marketing for Hendrickson Truck Commercial Vehicle Systems, SOFTEK NXT's weight savings is derived from the monoleaf spring design that utilizes Hendrickson's proprietary SOFTRIDE technology and saves up to 72 pounds.
Additionally, SOFTEK NXT's lightweight clamp group provides an additional 46 pounds of savings over traditional systems. Fleets and OEM's alike are demanding significant weight reduction opportunities to reach current and looming regulation fuel saving objectives.
SOFTEK NXT is compatible with drum or disc brakes and incorporates a two-piece knuckle assembly featuring premium kingpin bushings and seals for improved bushing life.
SOFTEK NXT will be available for OEM specification in North America at the end of the yea