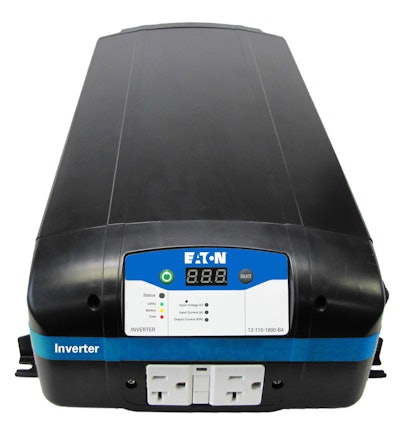 Power management company Eaton has added a new DC to AC inverter to its lineup of products for the commercial vehicle industry. The new Eaton Pure Sine Wave Inverter produces either 1000 or 1800 Watts of AC power output from a standard Class 8 DC vehicle battery and can be used to power phone chargers, computers, heaters, microwaves, refrigerators, TVs, sleep apnea machines and more.
"The inverters can be a great recruiting and retention tool with drivers by improving comfort and reducing time spent in hotels," said William Gross, manager, emerging products, Eaton. "When you also factor in the productivity improvements and fuel savings from reduced idle time, fleets will quickly see an excellent return on their Eaton Inverter investments."
A built-in optional 40 amp charger and standard AC transfer switch automatically transitions between AC utility power and truck battery power. This minimizes battery discharge and provides a seamless electrical system solution for Class 8 truck sleeper cabs
Safety features on the new Eaton inverters, which have undergone hundreds of hours of testing, include DC and AC over and under voltage protection, overload protection, backup fuses and circuit breakers. Designed exclusively for commercial vehicles, the Eaton inverters are UL certified and compliant with TMC and SAE recommended practices.
Performance features include a highly efficient design to maximize inverter run time from the vehicle's batteries. A standard low-voltage disconnect feature protects batteries from excess discharge.  The pure sine wave design provides safe and reliable power for AC powered household appliances and demanding electric motor driven loads
"We are pleased by major truck OEM acceptance of our inverter products and the popularity of the OEM installed inverter option by truck fleets," said Michael Klasen, product manager, Eaton Controls and Power Conversion division. "It is great to see a return on Eaton's investment in application testing and we look forward to making the performance and quality of the Eaton True Sine Wave Inverter available for all vehicle OEMs and aftermarket customers."
To assure the safety and maximum value for users, inverter wiring harnesses are supplied by Purkeys Fleet Electric, one of North America's leading suppliers of electrical solutions to the commercial vehicle industry. All harnesses meet SAE J1455 requirements.
All Eaton Pure Sine Wave Inverters carry a two-year warranty. Eaton Roadranger Field Marketing sales, service and aftermarket representatives offer complete installation support.