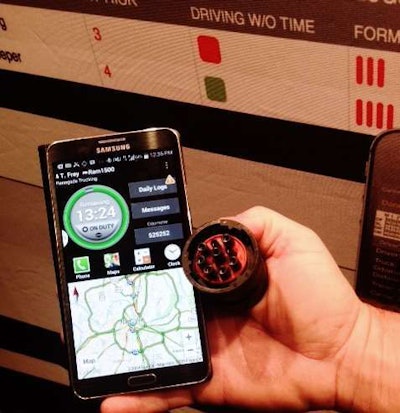 At the National Association of Small Trucking Companies' annual conference in Nashville on Nov. 7, BigRoad COO Terry Frey showcased an update to the company's software-only logging and management apps called DashLink. The company worked with an Indiana-based manufacturer to produce the link which captures data from the engine's ECM.
This link plugs into the truck's data portal, communicates via a Bluetooth connection with software that has a look and feel similar to BigRoad's current applications, installed on operators' Android- or iOS-powered smartphones or tablets.
The software, dubbed DashLink, creates a CFR 395.15-compliant Automatic On-Board Recording Device. The entire package is currently operating under a rental model, at $10 a month for the plugin hardware, $15 for the software, of a piece with BigRoad's continued goal to be the "most affordable" among ELDs/EOBRs/AOBRDs on the market.
In the future, Frey said, fleets that already own their own engine-connected devices that communicate via Bluetooth will be able to transition to BigRoad with custom company certification of the connection.
The NASTC show was among the first public debuts of the solution, as Frey emphasized the company's been focusing on keeping up with demand from the fleets and operators among current BigRoad users, with around 800 units shipped so far — "more than that" following success at the show, Frey felt confident in saying.