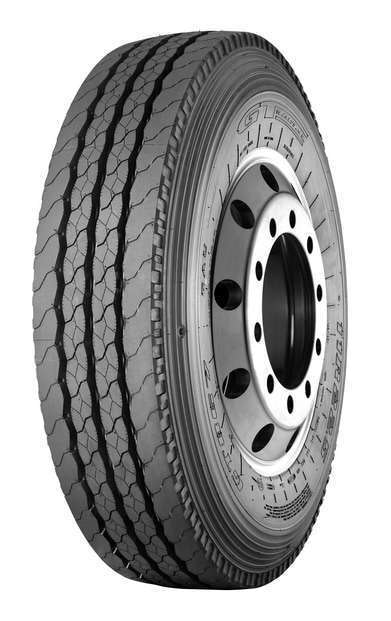 Four GT Radial commercial tires, including three for regional service and one designed for city buses and urban delivery, have received SmartWay verification from the U.S. Environmental Protection Agency (EPA).
With these four new additions, GT Radial now has seven commercial tires for line haul and regional service that have met the requirements of the SmartWay Technology Program. The GT Radial premium line haul line-up — GSL213FS steer tire, GDL617FS drive tire, and GTL922FS trailer tire – had already received SmartWay verification
"Our company is committed to helping fleets and owner operators reduce their operating expenses, and with fuel being a major expense, we're thrilled to add four more GT Radial tires to our SmartWay line-up," said Patrick Gunn, director of sales and marketing, commercial tire, for GITI Tire (USA) Ltd., which markets and sells a full line of GT Radial commercial tires in North America. "We now have a full line of SmartWay verified tires for line haul and regional applications. When you combine the long tread life, durability and retreadability of GT Radial tires with fuel efficiency, GT Radial delivers a very competitive cost per mile."
The four GT Radial tires to obtain SmartWay verification are:
The GT279 regional steer tire features a five straight rib pattern for reliable control and handling, deep tread depth for long tread life, and multiple sipes in the five ribs for optimum traction and braking.
The GT688 regional drive tire has an aggressive open shoulder lug pattern for excellent traction on wet and dry roads. Central dual serrated ribs contribute to exceptional stability and control, while the tire's deep tread depth delivers an outstanding cost per mile.
The GT879 regional all position tire has a five rib design with wide straight grooves that contribute to exceptional water evacuation. Crossing sipes in the intermediate ribs contribute to traction and longer life, while equal rib distribution provides excellent resistance to tread scrubbing.
The GT867 is an all position, three groove tread design developed for city bus and urban delivery applications. It has reinforced sidewall protector ribs to help prevent curb damage and a solid shoulder design for enhanced cornering stiffness on the shoulder.
The GT279, GT688 and GT879 tires are SmartWay verified for all of the standard highway sizes – 11R22.5, 11R24.5, 295/75R22.5 and 285/75R24.5. The GT867 is SmartWay verified for the 11R22.5 size.
The EPA has determined that certain low rolling resistance tire models when used on all five axles on line-haul class-8 tractor trailers can reduce NOx emissions and improve fuel consumption by over 3 percent. The EPA has verified that these GT Radial tires achieved the appropriate target values for rolling resistance for their designated axle positions and can be considering low rolling resistance tires.