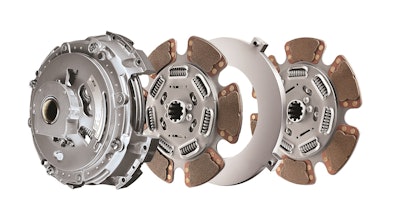 Eaton has added a new self-adjusting clutch to the company's lineup of aftermarket products. The new EverTough by Eaton Self-Adjust clutch has been engineered specifically for aftermarket applications and eliminates the need for manual adjustments.
 All EverTough clutches are affordably priced and designed for longevity to extend the life of later life-cycle trucks. Features include easy-to-see wear indicators, stainless steel cam springs, full-round baffles, and dampers that optimize aftermarket torsional vibration needs.
 "EverTough clutches are an excellent choice for customers looking for an unbeatable combination of value and performance," said Ben Karrer, global product strategy manager, Eaton. "The clutches also feature Eaton's proven self-adjust technology that competitive models just cannot match, and receive the same industry-best Roadranger driveline support as our OEM (Original Equipment Manufacturers) clutches."
 Available in 14- and 15.5-inch sizes at thousands of truck dealers and independent parts suppliers throughout North America, the EverTough Self-Adjust clutch has a 25,000-mile lube interval and comes with a one year warranty. Eaton's newest addition to its aftermarket offerings will be available for order February 1, 2016.