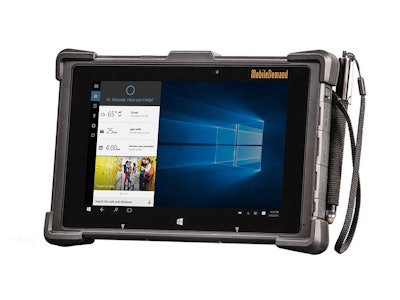 MobileDemand, a rugged Windows tablet provider, announced the xTablet T8650, an 8-inch rugged tablet with integrated 3D camera that is engineered specifically for the mobile workforce.
Using an Intel RealSense 3D rear-facing camera, the xTablet T8650 can create realistic 3D models of a subject as well as near field automatic measurements, the company says.
The integrated camera captures 3D scenery and objects, overlaying virtual information into a live image feed for applications such as volume dimensioning, measurements, scene capture and more.
Combined with the software MobileDemand is developing, it allows systems to understand what is seen. The software will acquire measurements, dimensions, object recognition, and 3D e-scenes using advanced computer vision technology and algorithms. These interfaces can be feed 3D data, such as measurements, to existing end-user applications, it says.
"MobileDemand is expanding beyond the core rugged tablet hardware market and into high value systems for enterprise applications," says Matt Miller, MobileDemand president and founder. "3D technologies will offer immense value for the transportation and logistics, package delivery, airline, travel, and construction industries."
The xTablet T8650 runs Windows 10 Professional with an Intel Atom X5- Z8550 processor, 4GB of memory and 64GB of storage. Other features of the rugged tablet include a high performance 2D barcode imager, fingerprint reader, 4G LTE, GPS, dual color cameras, hot swappable batteries, vehicle mounting, and more.