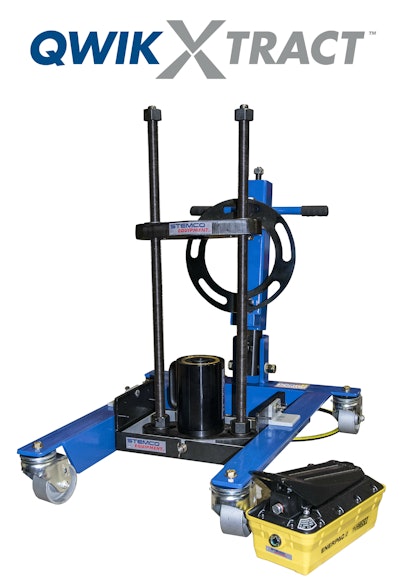 Stemco on Tuesday introduced a king pin removal system suitable for use with most wheel end configurations.
The QwikXtract system consists of an integrated cart and self-aligning industrial-strength press, the company says. The wheel end cart allows the operator to safely remove the entire wheel end assembly – brake drum, spindle and wheel end – and position it safely away from the repair work, reducing the time it normally takes to disassemble each component, muscle strain on the operator, and the potential for injury from falling parts.
The self-aligning hydraulic press keeps the push rods in line with the king pin to optimize force placement and remove king pins much faster than un-aligned systems. By removing without the use of manual force, the QwikXtract system increases operator safety and maintenance productivity.
The QwikXtract system features interchangeable hub mounts that allow it to be used with different wheel end configurations with minimal changeover time. It is capable of supporting wheel ends up to 350 pounds.